CORY REYNOLDS | DATE 7/18/2016
This season, we are delighted to welcome UK-based REEL ART PRESS to our list. Publisher of such crowd-pleasing and yet deeply researched archival treasure-troves as Billy Name: The Silver Age, Separate Cinema: The First 100 Years of Black Poster Art and The 2001 File: Harry Lange and the Design of the Landmark Science Fiction Film, the imprint is run by one Tony Nourmand, connoisseur of connoisseurs, lover of all things pop-archival. We sat down with Tony to hear his story.



ABOVE: Omar Clay at the Newport Jazz Festival, 1963. Reproduced from 'Jim Marshall: Jazz Festival' on the front cover of the 2016 R|A|P catalogue.

CORY REYNOLDS: You come from a film background—you're a connoisseur of vintage posters. What made you think you should (and could) start a publishing company? Surely not the money!

TONY NOURMAND: In short, naivety and excitement. I started editing a series of books on movie poster art for other publishers in 1996, while running my own gallery and working as a consultant for Christie's. These books sold very well, so I basically had carte blanche to produce one, sometimes two, a year. Then, in 2010 I got a phone call at work, out of the blue, from an elderly American man. He said: "My name is Bill Gold and I am a movie poster designer and have just retired and was wondering if you would be interested in doing a book on my work and career." The name rang a bell, as I'd spent the past 20 years researching the designers behind *vintage* movie posters. (This was especially difficult with American designers, since, with one or two exceptions, they never signed their work.) So I asked if he was the same man who had designed the posters for Dog Day Afternoon (1975) and Unforgiven (1992). He replied, surprised: "Do you know my work?" I said: "Well I know of a few, but not everything. What else did you do?" He said: "The first poster I ever designed was Casablanca (1942). I also did Streetcar Named Desire (1951), Barbarella (1968), The Exorcist (1973)… I also did every Clint Eastwood movie poster from Dirty Harry (1971) to Mystic River (2003)."

CR: Amazing. You must have been dying!

TN: He told me that he lived in Connecticut and still had his archive. I booked my flight immediately. Within a couple of hours with him, I realized that he was the man behind some of the most iconic images I'd grown up with. There were endless drawers full of slides of final designs and rejected ones—which in some cases were more interesting than the posters that were actually released. Bill's work spanned more than 50 years, and it had gone through all the changes in the graphic design of that period. I realized that this was a book that had to be published, but was also aware that none of the traditional publishers I had worked with would entertain the budget needed to do the job. There were at least 700 discolored negatives to restore, and this was just the beginning! On that trip I decided to set up Reel Art Press and publish the book myself. I raised the money and set out to produce BILL GOLD: PosterWorks as a limited edition. This was the first and last time that I did something regardless of cost and economics! But it is, to this day, the book that I am most proud of. This episode led to my evolution from movie poster dealer to full time publisher. I still research, archive and consult on the subject, which was always the aspect that I enjoyed most.



ABOVE: Two classic 1970s Blaxploitation posters from 'Separate Cinema: The First 100 Years of Black Poster Art.'

CR: You're basically an expert on archival editing. Which of your previous books were the most fun to put together?

TN: Two books which immediately spring to mind are Separate Cinema: The First 100 Years of Black Poster Art and The 1960s: Photographed by David Hurn. Separate Cinema was a book that I had always wanted to do with John Duke Kisch. It was a big undertaking. We had to go through 30,000-plus items from John's collection and pick out the most significant designs showing the good, the bad and the ugly from this important genre. I learned a lot, and am very proud of the result. On the other hand, working with David Hurn on his 1960s book was a dream. David put his trust in me and let me loose on his archive. To me, this is the most rounded photo essay on the decade, bringing together some of the most instantly recognizable images from the 1960s with photographs of mundane, everyday life in both Europe and America.



ABOVE: A selection of special publicity photographs of Jane Fonda as Barbarella from 'The 1960s: Photographed by David Hurn.'

CR: Is there one book that was most difficult or complex?

TN: I would say that one of the hardest and most complex was The 2001 File: Harry Lange and the Design of the Landmark Science Fiction Film. This book was initiated in 2011, when I brokered the sale of the Harry Lange Archive to a private collector. There were more than 1,000 original design sketches and thousands of personal research materials to go through. This level of detail on this subject matter was and is a little bit out of my comfort zone, but thankfully I started the book with one of my long-time collaborators, Sir Christopher Frayling. Christopher did extensive research on the material and flew to Washington, D.C. to interview Fredrick Ordway, who was *NASA's* consultant on the movie. It turns out this was Ordway's last interview, and he brought to light a lot of information that had never been heard or documented before, regarding the central importance of art director Harry Lange's vision to the look and feel of 2001.

CR: Stanley Kubrick's masterpiece.

TN: Yes. The book illustrates several innovations that were considered science fiction in the 1960s, but have since become science fact, including a "newspad" designed by IBM, which bears an uncanny resemblance to today's iPad. Lange's remarkable designs for 2001 created a credible vision of the future. So much has been written and said about 2001 since it was first released in April, 1968... but *all this archival material* was something completely new and previously unseen. It's something of a holy grail for fans of the film, or any lovers of science, space, film and design.



ABOVE: Command module instrumentation and ceiling designs from 'The 2001 FILE: Harry Lange and the Design of the Landmark Science Fiction Film.'

CR: You have three new books coming out in the Fall. One is an amazing collection of legendary music photographer Jim Marshall's jazz festival photos from the 1960s. Most never before published. Tell me about it.

TN: A colleague introduced me to the Jim Marshall Estate last year. They were looking to publish a book of Jim's jazz photographs. They sent me scans of more than 500 contact sheets from the Newport and Monterey Jazz Festivals in the 1960s, as well as some of his better-known portrait work. Looking through them I became mesmerized. These photographs are not only defining images of musicians at work, but there are also thousands of killer images of the "scene." It was real fly-on-the-wall documentation that clearly showed how jazz transcended age and race during such a turbulent decade in America. We were incredibly lucky to get a foreword from President Bill Clinton and an introduction from Nat Hentoff. The book is designed by one of my long-time collaborators, Graham Marsh. We went ahead and scanned over 550 images from the negatives, out of which only 25 or so have been seen before. The book very much reminds me of the movie Jazz On A Summer's Day (1959). In addition to documenting the 60s jazz scene, this book has become a what-to-wear for Ivy Style enthusiasts.



ABOVE: Woody Allen effortlessly personified the East Coast Ivy Look. From 'Hollywood and the Ivy Look.'

CR: What's all this Ivy Style talk? If I'm not mistaken, Hollywood and the Ivy Look is one of your best-selling backlist books.

TN: I have been doing books with the art director and designer Graham Marsh for 20 years. Several years ago, Graham kept on talking about a book that he was doing called The Ivy Look. When the book was eventually published and I saw it, I realized what The Ivy Look was. I had basically been wearing Ivy-style clothes all my life but never knew there was a name for this look. Bass Weejun loafers, natural shouldered seersucker jackets, Lacoste tennis shirts and Clarks desert boots. Not forgetting button-down shirts, chinos and 501 Levi's. I distinctly remember growing up watching movies and being influenced by the on-screen style. One of the thoughts left lingering in my head after watching Norman Bates in Psycho was, "Where can I get one of those shirts?" The revelation that this look was a genre in itself led my collaboration with Graham on Hollywood and the Ivy Look. The book was one of the first non-limited edition book that R|A|P published and we sold out of the original print run before we even had a distributor.



ABOVE: Mayhem at Le Clique and Electric Circus, NYC, 1979. From 'Disco: The Bill Bernstein Photographs.'

CR: Wow! Moving back to your forthcoming books, I have to mention—it's so sad, but also so amazing—that you have an extraordinary Muhammad Ali book coming out this Fall. It collects mostly unpublished photographs by Peter Angelo Simon of Muhammad Ali preparing for his most epic fight. How did that happen?

TN: We published the book Disco last year, by Bill Bernstein. Bill was Peter Angelo Simon's assistant back in the day, and he introduced us. Initially I was not keen on doing a photo book on Muhammad Ali, since there are many books on him already, some very good. I quickly changed my mind after seeing Peter's contact sheets. These were different. They presented an intimate account of two days with one of the most famous people on the planet, at one of his most pivotal moments, getting ready for one of the most iconic fights in boxing history—the Rumble In The Jungle. The 33 rolls of film that Peter took over the 48-hour period show Ali touring a home for old people, *participating in an exhibition match* at a local high school, joking with the construction team that delivered boulders to his training camp, sharing his poetry with a visiting actress and writer, entertaining local visitors in *his log cabin*, working the punching bag while the Black Power activist Stokely Carmichael looks on admiringly, performing slight-of-hand tricks in the gym's ring, etc.



ABOVE: No one visiting Muhammad Ali's training camp could fail to be intrigued by the painted boulders. From 'Muhammad Ali: Fighter's Heaven 1974.'

CR: Where were you in the production process when you learned he had died?

TN: We were on press with the book when I heard the sad news of Ali's passing. The news brought with it a numbing feeling, which is still lingering.

CR: Wow. That gives me chills. Sort of the opposite of the third book you're bringing out this Fall, which is Total Excess, an outrageous, guilty-pleasureish collection of 70s and 80s rock photography by Michael Zagaris.

TN: Michael is one of the most talented and colorful people that I have ever met. He started his career back in 1967 working on Bobby Kennedy's Presidential campaign. The trauma of witnessing Kennedy's assassination at close quarters propelled Zagaris away from politics and law and into photography. He began covering rock music in San Francisco. He also captured some of the most vital counterculture figures of that period, including Billy Bowers, Divine, Peter Berlin, The Cockettes and Jim Carroll, who used one of Zagaris' portraits for the cover of his book Basketball Diaries. In 1973 Zagaris became a team photographer for the San Francisco 49ers, and in 1981 he started shooting the Oakland As, both of which he continues to shoot to this day. But somehow, this is his first book, and its focused on his rock photography. It's one of the most beautifully designed books that we've ever published. I'm excited to unleash his work and stories!



ABOVE: Jimmy Page onstage with Led Zeppelin in Oakland at a Day on the Green on July 23, 1977. The first of two shows in what would be the last time the band ever appeared in America. Reproduced from Michael Zagaris' forthcoming 'Total Excess.'

CR: So what's next?

TN: We have quite a few things lined up. I am putting the finishing touches on LGBT: San Francisco, the first in a series of books we will be publishing with Dan Nicoletta. Dan started his career as a young photographer working at Harvey Milk's camera store in the heart of the LGBT mecca, and has religiously documented the journey of the LGBT civil rights movement over the last 40 years. The photographs are powerful, they're intimate and they totally capture this groundbreaking time. This is the first book devoted to Dan's incredible body of work.

I'm also working on The Beat Scene as part of R|A|P's continuing collaboration with the Burt Glinn Archive. The book is a collection of Burt's unseen, mainly color photographs of the Beat Generation, 1957-1960, in both New York and San Francisco. We came across these previously unpublished photographs by chance when we were working on Burt's Cuba 1959 book at his archive. I simply could not believe my eyes. The slides contain the most incredible images that I have ever seen. They capture everything from Jack Kerouac reading poetry in New York to a wild, unhinged party at the designer David Stone Martin's loft in San Francisco, as well as art gallery openings and coffee shops. The images are so good they almost look made up.

CR: I can't wait to see them.

TN: Can I mention again, they are almost all in color!

TONY NOURMAND is the founder and Editor-in-Chief of R|A|P. He comes to publishing from a successful career in gallery ownership, art and film. Tony was the consultant for vintage movie posters at Christie's, London, where he was instrumental in transforming the market in movie posters from obscurity into a globally collected art form, with examples commanding six figure sums at auction. For 20 years, he co-owned the Reel Poster Gallery in London, where he authored several definitive best-selling books on film posters. Tony set up Reel Art Press in 2010 with ALISON ELANGASINGHE, head of editorial and operations. Tony and Alison have been working together for 15 years.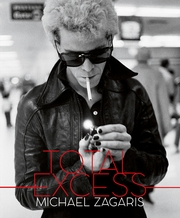 REEL ART PRESS
Hbk, 9.5 x 12 in. / 272 pgs / 30 color / 200 b&w.