HAYDEN ANDERSON | DATE 8/26/2015
RM/Conaculta's gorgeous new edition of Mexico Illustrated 1920-1950 is an expansion of the 2011 volume of the same name—already the most comprehensive and indispensable tome on the subject ever compiled. Both lush and scholarly, the 2015 edition includes more than 300 illustrations ranging from revolutionary pamphlets to travel guides, avant-garde manifestos, poetry collections and children's books—all situated around seven essays and a wealth of short biographical texts on masters of the form including Diego Rivera, José Clemente Orozco, Rufino Tamayo and David Alfaro Siqueiros, alongside lesser-known artists such as Ramón Alva de la Canal, Jean Charlot, Miguel Covarrubias, Dr. Atl, Gabriel Fernández Ledesma and Leopoldo Méndez. Taken together, these works and histories tell the story of a search for national identity in the wake of the long, bloody and contentious Revolution that ripped through national life roughly from 1910 until 1920.



ABOVE: El Nacional. Diario popular (Mexico City) III, XII, "2ª época," 29 November 1931 | Cover by S.M. Báez | Hemeroteca Nacional, Universidad Nacional Autónoma de México.

The book begins with works that deal directly with the Revolution, including texts on historical figures like Emiliano Zapata, revolutionary novels, poems by the Groupo Agorista, a collection of engravings by the Taller de Grafica Popular, and more. These illustrations all engage in a similar graphic vernacular encompassing a clear moral struggle between right and wrong. The agrarian revolutionary hero is both humble and powerfully defiant, while the oligarchs of the old regime are as cruel as they are greedy. These early illustrations include iconic images of slain combatants by Diego Rivera, commemorative lithographs by J.C. Orozco and engravings by the Taller de Gráfica Popular.



ABOVE: El Sembrador. Órgano de la Secretaría de Educación Pública (Mexico City) 2, 5 May 1929 | Cover by Diego Rivera.

But as the Revolution faded and the government came into its own, illustration evolved to provide a cultural space that could define a new national identity. In his essay contribution, historian Mauricio Tenorio Trillo defines the resulting conception of "Mexicanness" as the "Brown Atlantis"—the idea of Mexico that "evokes prickly pear cactuses, millennial traditions, close-knit, pristine indigenous communities, sombreros, pistols, pyramids, Toltec, Aztec or Mayan frets, evolution, siestas, spiritual superiority, amatory incontinence, unhurriedness, ever-present past, anti-mechanism, the mixing of races and brown skin, plenty of brown skin"—a representation of Mexico that spread to (and was often fetishized by) other countries, especially the bordering United States. Rather than combat these images of "Brown Atlantis," many of Mexico's great post-revolutionary illustrators inhabited them as a framework, including the more radical avant-gardists, whose aesthetic innovations often upheld Mexican stereotypes rather than challenge them.



ABOVE: Carlos Mérida, Carnival in Mexico. Mexico City, Talleres Gráficos de la Nación, 1940 | plate 6, Huejotzingo, Puebla.

In contrast, Juan Manuel Bonet's essay, On the Trail of the Mexican Avant-Garde, provides an extremely detailed history of the period's experimental art movements and the journals through which the associated artists distributed their work. For anyone interested in the mid-century's international avant-garde, this chapter provides an invaluable web of names, groups and titles to flesh out later. The estridentistas are featured prominently, as well as Dr. Atl and reproductions from many small-run journals. Though producing distinctly Mexican work, these artists created in close dialogue with the international movements in Spain, France and, of course, the Soviet Union, whose influence is apparent in the chapter devoted to radical, left-populist, anti-fascist political illustration of the 1930's.



ABOVE: Xavier Villaurrutia, Dama de corazones. Mexico City. Ediciones de Ulises, 1928.



ABOVE: El Machete. Periódico obrero y campesino (Mexico City) 404, 1 May 1936 | Unsigned cover.

Politics remain a theme even in the chapter on children's book illustration, which places special attention on the efforts of the government's Secretaria de Educacion Publica (SEP) to promote literacy and education through cheap, large, editioned books aided by the "seductive elements of illustration." The illustrations in this section are seductive, and stand out from the rest of the book with their whimsical imagery and bright coloring (like the top hat-wearing, bicycle-riding frog, Rin-Rin Renacuajo). Especially enjoyable are Manuel Ávila Camacho's moralistic "hallelujah" stories; in one, a canon comes to life and refuses to continue fighting in war.



ABOVE: Antoniorrobles, Aleluyas de Rompetacones. 100 Cuentos y una Novela. Illustraciones de Peinador. Nº8 Ved a un balón pintoresco que sube con viento fresco.

Perhaps the greatest testament to Mexico Illustrated is that despite the physical and academic density of the book, the vivacity of the images makes the book feel light—and alive. When I bumped into a friend while flipping through the book at a cafe, he pointed to the table and said, "That's a huge book." I had been lost in a Xavier Villaurrutia drawing, and only then did I realize the open book's spread pages had taken up the whole surface of the table, my coffee cup about to fall off the edge.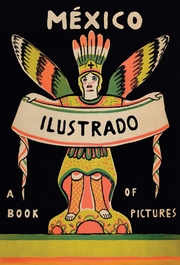 RM/CONACULTA
Clth, 9.5 x 12.75 in. / 336 pgs / 405 color.