BOOK FORMAT
Paperback, 11.75 x 11.75 in. / 216 pgs / 400 color.
PUBLISHING STATUS
Pub Date 10/24/2017
Out of print
DISTRIBUTION
D.A.P. Exclusive
Catalog: FALL 2017 p. 56
PRODUCT DETAILS
ISBN 9780957260085 TRADE
List Price: $34.95 CDN $45.95
AVAILABILITY
Not available
THE FALL 2023 ARTBOOK | D.A.P. CATALOG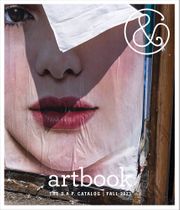 Preview our Fall 2023 catalog, featuring more than 500 new books on art, photography, design, architecture, film, music and visual culture.
Now in paperback, the definitive visual document of the Dancehall scene in 1980's Jamaica -- with bore than 400 color photos

THE MUSIC: Dancehall is the Jamaican popular music genre that exploded in the 1980's as a more sparse version of reggae, characterized by electronic effects and a faster tempo.
Includes the studios and record shops which served as the epicenter of the music and, of course, the artists and producers themselves.
THE AUTHOR: Writer and photographer Beth Lesser has been documenting and writing about Jamaican music since 1980. This is the definitive document of the scene.



&nbsp
&nbsp
Dancehall

The Rise of Jamaican Dancehall Culture

By Beth Lesser. Edited by Stuart Baker.


This definitive study of the 1980s Jamaican Dancehall scene features hundreds of exclusive photographs and an accompanying text that capture a vibrant, globally influential and yet rarely documented culture that has mixed music, fashion and lifestyle since its inception.

With unprecedented access to the incredibly exciting music scene during this period, Beth Lesser's photographs and text are a unique way into a previously hidden culture.

Dancehall is at the center of Jamaican musical and cultural life. From its roots in Kingston in the 1950s to its heyday in the 1980s, Dancehall has conquered the globe, spreading to the USA, UK, Canada, Japan, Europe and beyond.

This jam-packed visual history tells the story from its roots to its heights from the vantage of the true, respected insider. In the early 1980s, as Jamaica was in the throes of political and gang violence, Beth Lesser ventured where few others dared, and this book is a never-before-seen record of the exciting, dangerous world of Dancehall.




Featured image is reproduced from 'Dancehall.'

FROM THE BOOK

Excerpt from text by Beth Lesser

Jamaicans were in the mood to party and for this they needed one thing—records. In the late 1950s and early 1960s, American musical tastes were changing, moving away from R&B and into rock and roll. Although in the late 1950s and early 1960s there was still, for instance, Fats Domino, the supply of good American R&B records that Jamaican dancehall crowds demanded had practically disappeared. This phenomenon, paired with the burst of national pride, spurred on the development of a local recording industry that could tailor-make records to match Jamaican tastes.

Apart from feeding the hungry soundsystems, record producers began to think about the local record-buying public. Record producer Clive Chin remembers the early days when his father, Vincent Chin, was one the first people producing local records. "The motivation that he had was to supply the music to the masses of people who wanted it. Jamaica used to gravitate a lot to American music—rhythm and blues, country and western and jazz; so when we couldn't get enough of the American music, we had to turn to our own."

At first, many producers recorded local imitations of the American R&B music that the dancehall crowds liked, but another branch of the diminutive industry also began mining the Jamaican musical traditions for sources of material to record. Indigenous Jamaican music was largely country music—folk songs and mento—and, during this period, people were migrating en masse from the small towns in the country into Kingston, bringing with them their traditions and their music. The bands that performed in the city were playing their version of American big band jazz and the north-coast hotel bands played mento—the eventual mixing of the two styles was inevitable. The musicians imitating the American sound began to put a little local swing in the beat and came up with the totally Jamaican form of music called ska, with its distinct rhythm accenting the off-beat giving the music its distinctive style.


All of this musical activity was going on in the concentrated area of downtown Kingston. That was predominantly where the sounds played, where the record shops sprung up. Now with a fresh, available and continually regenerating supply of records, the potential was there for dancehall to expand endlessly. Soundsystem ownership became possible for people who didn't have the means to travel to the US searching for that one dancehall killer.

The early 1960s were an exciting time for music. Ska had become the common pop expression of the era; it was fast, lively, and improvisational. It was to a large extent about instrumentals—jazzy arrangements with lots of horns and a driving beat. It was dance music. In the dancehall, the deejay's role was to play records—what we now call the "selector"— and to make announcements, filling in the empty space while the next cut was being cued up on the turntable. To keep the energy high, he would let off a little jive talk.

During the ska era, Jamaica was populated by a generation of first class instrumentalists. Many of the great early musicians came out of the Alpha Boys' School, where they were provided with instruments and band practice. Run by The Sisters of Mercy, the school took in underprivileged, wayward young boys and gave them an education and musical training. Of the Skatalites, four of its founding members graduated from Alpha - Tommy McCook, Johnny 'Dizzy' Moore, Lester Sterling and
Don Drummond. Alpha was one of the few places on the island to provide instruments and early instruction to impoverished children. Where else could a youth in, say, Denham Town go for trombone lessons? The forward-looking and musically inclined head of the school, Sister Ignatius, even ran a dance on Saturday afternoons featuring the school's own soundsystem.

Ska lasted until 1966, when the beat began to slow and a new, short-lived musical era dawned. Rocksteady was different. Some say it was reggae's golden age—classic music that has held up over time, music that the Jamaican soundsystems still play today.

CORY REYNOLDS | DATE 2/12/2018

Featured image, of Little John, George Phang and friends, is reproduced from Dancehall: The Rise of Jamaican Dancehall Culture, a staff favorite for Black History Month. "In a poor country where, in the early days, owning a radio was a luxury, people found ways to satisfy their musical craving… The poor man or woman in the ghetto had no access to expensive entertainment, so the man with the turntable and a few records was king… All he would have to do is set up his turntable and speaker, and play a few tunes out in the open air, where people could hear them, and a crowd would gather. To add to their appeal, these improvised soundsystems would also play records that didn't get played on the radio stations…" continue to blog