CORY REYNOLDS | DATE 7/6/2015
Wednesday, July 8, photographer Joseph Szabo will appear in conversation with noted photography critic Vince Aletti, presenting an exclusive look at Szabo's new collection, Rolling Stones Fans, which documents in detail concertgoers from a 1978 Rolling Stones concert at JFK Stadium in Philadelphia. Szabo is best-known for his compelling photographs of Long Island adolescents, collected in the 2003 out-of-print classic, Teenage. Join us at 7PM at the Strand!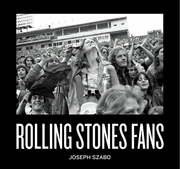 DAMIANI
Hbk, 9.75 x 9 in. / 128 pgs / illustrated throughout.
$39.95 free shipping