DANNY KOPEL | DATE 4/30/2020
When Swedish artist Hilma af Klint died in 1944 at the age of 81, she left behind a prolific body of work. It remained largely unseen until two landmark exhibitions—in 2013 at the Moderna Museet Stockholm and in 2018 at the Solomon R. Guggenheim Museum in New York—thrust af Klint onto the world's stage. Predating modernist abstraction, the works were a revelation to many and called for a revision of the art historical narrative. Now a new film, Beyond the Visible (Zeitgeist Films), introduces this visionary artist to a wider audience, cementing her status as a phenomenon that extends beyond the art world.




ABOUT THE FILM
Hilma af Klint was an abstract artist before the term existed, a visionary, trailblazing figure who, inspired by spiritualism, modern science and the riches of the natural world around her, began in 1906 to reel out a series of huge, colorful, sensual, strange works without precedent in painting. The subject of a recent smash retrospective at the Guggenheim Museum, af Klint was for years an all-but-forgotten figure in art historical discourse, before her long-delayed rediscovery. Director Halina Dryschka's dazzling, course correcting documentary describes not only the life and craft of af Klint, but also the process of her mischaracterization and erasure by both a patriarchal narrative of artistic progress and capitalistic determination of artistic value.




Beyond the Visible is now playing in "virtual cinemas" through Kino Marquee. Check here for virtual screening times.

In support of the film, a handful of bookstores across the country—including Artbook @ MoMA PS1, Artbook @ Hauser & Wirth Los Angeles Bookstore, Greenlight Books, Oblong Books, Brookline Booksmith, Bunch of Grapes Bookstore, The Village Bookstore and Words Bookstore—are partnering with the theaters that are holding virtual screenings. They are offering a selection of books on af Klint, including the Guggenheim exhibition catalog, for further reading on this endlessly fascinating figure.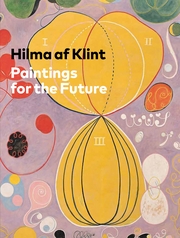 GUGGENHEIM MUSEUM PUBLICATIONS
Hbk, 8.5 x 11.25 in. / 244 pgs / 220 color.
$65.00 free shipping