CORY REYNOLDS | DATE 3/30/2022
Wednesday, March 30, from 3–4:30PM PST, Letterform Archive and Cooper Hewitt, Smithsonian Design Museum present noted design curator and scholar Ellen Lupton on Bauhaus typography, and why it matters. Take a virtual tour of Letterform Archive's exhibition Bauhaus Typography at 100, and get up close and personal with little-known works from the collection of the Cooper Hewitt. Look at key pieces of graphic design and learn how (and why) they were made. Discover the ideas, the people, and the stuff that made the Bauhaus an outsized legend whose influence is still felt today. Register here!




Ellen Lupton is senior curator of contemporary design, Cooper Hewitt, Smithsonian Design Museum in New York. Her recent exhibitions include Design & Healing: Creative Responses to Epidemics, Herbert Bayer: Bauhaus Master, Face Values: Understanding Artificial Intelligence, and The Senses: Design Beyond Vision. She is the Betty Cooke and William O. Steinmetz Design Chair at MICA. Her books include Health Design Thinking, Design Is Storytelling, Extra Bold: A Feminist, Inclusive, Anti-Racist, Nonbinary Field Guide for Graphic Designers, Thinking with Type, Graphic Design Thinking, and Graphic Design: The New Basics. She is an AIGA Gold Medalist and a Fellow of the American Academy of Arts & Sciences.




The official catalog for Letterform Archive's inaugural gallery exhibition, Bauhaus Typography at 100 explores the school's legacy in graphic and typographic design through artifacts of its own making—its books, magazines, course materials, product catalogs, stationery, promotional fliers and other ephemera.




From the book's beautifully designed pages, readers learn of typographic masters László Moholy-Nagy, Herbert Bayer and Joost Schmidt, who channeled Constructivism's geometric forms and optimism for industry into printed vehicles for the school's teachings. Here is where Bauhaus typography—its rejection of serifs and capitals, embrace of experimental alphabets, insistence on universal clarity, and innovation in layering and hierarchy—took its distinctive shape.




The catalog also shines light on the Bauhaus's lesser-known early forays into expressive lettering and illustration, also tracing the school's immediate impact on seminal design movements such as the New Typography and, of course, on design practitioners working today. Lavishly illustrated, carefully researched and written, and accompanied by an in-depth introduction from noted Bauhaus expert, author and curator Ellen Lupton, Bauhaus Typography at 100 is a must-have for any fan of modern design.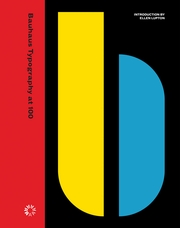 LETTERFORM ARCHIVE BOOKS
Hbk, 7.5 x 9.5 in. / 280 pgs / 450 color / 25 b&w.
$45.00 free shipping