CORY REYNOLDS | DATE 2/12/2013
On Thursday, February 14th at 2 p.m., noted New Yorker writer Calvin Tomkins will sign copies of his new book, Marcel Duchamp: The Afternoon Interviews, published by Badlands Unlimited, at the ARTBOOK | D.A.P. bookstore (booth 505-507).


Visit ARTBOOK | D.A.P. Booth 505-507 at the 2013 College Art Association Conference, February 14-16, at the New York Hilton Hotel, 1335 Avenue of the Americas and 54th Street. Our booth features new and classic course adoption titles alongside essential monographs and exhibition catalogs published by an array of the world's leading museum and independent art book publishers.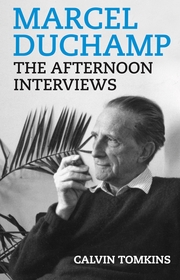 BADLANDS UNLIMITED
Pbk, 5.25 x 8 in. / 110 pgs / 10 b&w.