BOOK FORMAT
Clth, 7 x 9.5 in. / 176 pgs / 125 color.
PUBLISHING STATUS
Pub Date 10/30/2012
Out of stock indefinitely
DISTRIBUTION
D.A.P. Exclusive
Catalog: SPRING 2013 p. 131
PRODUCT DETAILS
ISBN 9783775734707 TRADE
List Price: $60.00 CDN $79.00
AVAILABILITY
Not available
TERRITORY
NA LA
EXHIBITION SCHEDULE
Munich, Germany
Architekturmuseum der Technischen Universität, Pinakothek der Moderne, 06/21/12-09/02/12
THE FALL 2023 ARTBOOK | D.A.P. CATALOG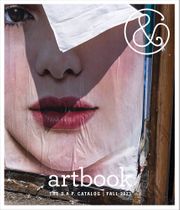 Preview our Fall 2023 catalog, featuring more than 500 new books on art, photography, design, architecture, film, music and visual culture.
&nbsp
&nbsp
Le Corbusier: Le poème de l'angle droit




Between 1947 and 1953, Le Corbusier (1887–1965) produced a suite of 19 lithographs and illustrated poems that are now regarded as the most complete statement of his worldview. The lithographs and texts of Le poème de l'angle droit are arranged in seven "zones" lettered A–G, and are assigned a thematic title and a color (e.g. A is Environment [green]; B is Mind; C is Flesh [brown]; etc). These titles, and their color codings, were in part inspired by Le Corbusier's study of alchemy, and each chapter in the book contains a subset of poetical meditations on alchemical theories of tensions between elements, colors and genders, and the relationship between spiritual evolution and architecture. Le poème de l'angle droit was published in 1955. This elegantly jacketed, clothbound facsimile publication presents a classic of architectural literature in a handsome, affordable edition for the first time. Le Corbusier's handwritten text remains in its original French throughout; an English translation of the text is included as an appendix.


STATUS: Out of stock indefinitely.

WALTHER KöNIG, KöLN

ISBN: 9783753302980
USD $55.00

| CAN $79

Pub Date: 11/14/2023
Forthcoming




MOUSSE PUBLISHING

ISBN: 9788867495863
USD $29.95

| CAN $43.95

Pub Date: 12/5/2023
Forthcoming




ARQUINE

ISBN: 9786078880195
USD $55.00

| CAN $79

UK &pound 47

Pub Date: 1/16/2024
Forthcoming




LARS MüLLER PUBLISHERS

ISBN: 9783037787229
USD $15.00

| CAN $21.5

Pub Date: 6/6/2023
Active | In stock




ARQUINE

ISBN: 9786078880096
USD $40.00

| CAN $58

UK &pound 35

Pub Date: 11/7/2023
Forthcoming




ARQUINE

ISBN: 9786078880102
USD $40.00

| CAN $58

UK &pound 35

Pub Date: 9/5/2023
Active | In stock




ARQUINE

ISBN: 9786078880065
USD $30.00

| CAN $43.5

UK &pound 26

Pub Date: 7/4/2023
Active | In stock




ARQUINE

ISBN: 9786078880164
USD $35.00

| CAN $50.5

UK &pound 30

Pub Date: 10/24/2023
Forthcoming




LA FáBRICA

ISBN: 9788418934759
USD $40.00

| CAN $58

UK &pound 35

Pub Date: 2/6/2024
Forthcoming




LARS MüLLER PUBLISHERS

ISBN: 9783037787311
USD $50.00

| CAN $72.5

Pub Date: 9/5/2023
Active | In stock




LARS MüLLER PUBLISHERS

ISBN: 9783037787373
USD $48.00

| CAN $69.6

Pub Date: 11/14/2023
Forthcoming




VERLAG FüR MODERNE KUNST

ISBN: 9783903439818
USD $35.00

| CAN $50.5

Pub Date: 11/21/2023
Forthcoming