BOOK FORMAT
Hardcover, 9 x 10.5 in. / 340 pgs / 265 color.
PUBLISHING STATUS
Pub Date 10/3/2023
Active
DISTRIBUTION
D.A.P. Exclusive
Catalog: FALL 2023 p. 3
PRODUCT DETAILS
ISBN 9781633451506 TRADE
List Price: $75.00 CDN $108.50
AVAILABILITY
In stock
TERRITORY
NA ONLY
EXHIBITION SCHEDULE
New York, NY
The Museum of Modern Art, 09/10/23–01/13/24

Los Angeles, CA
Los Angeles County Museum of Art, 04/07/24–10/06/24
THE FALL 2023 ARTBOOK | D.A.P. CATALOG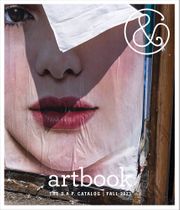 Preview our Fall 2023 catalog, featuring more than 500 new books on art, photography, design, architecture, film, music and visual culture.
&nbsp
&nbsp
Ed Ruscha / Now Then: A Retrospective

Edited with text by Christophe Cherix, with Ana Torok and Kiko Aebi. Text by Benjamin H.D. Buchloh, Donna De Salvo and Linda Norden, Michael Govan, Ellen Lupton and Jennifer Tobias, Andrew Perchuk, Jeffrey Weiss.


A sweeping cross-media survey of Ruscha's six-decade career, from paintings and works on paper to photographs and artist's books, with essays by leading scholars

Spanning 65 years of Ed Ruscha's remarkable career and mirroring his own cross-disciplinary approach, Ed Ruscha / Now Then features over 250 objects, produced from 1958 to the present, including paintings, drawings, prints, films, photographs, artist's books and installations. Published to accompany the most comprehensive presentation of the artist's work to date, and his first solo exhibition at the Museum of Modern Art, New York, this richly illustrated catalog highlights Ruscha's most acclaimed works alongside lesser-known aspects of his practice.
Essays by an interdisciplinary group of contributors examine Ruscha's work under a new light, beyond the categories of Pop and Conceptual art with which he has traditionally been associated, to present fresh perspectives on one of the most influential figures in postwar American art. Taken together, they underscore Ruscha's singular contributions, including his material exploration of language, experiments with unconventional mediums—such as gunpowder, chocolate or chewing tobacco—and his groundbreaking self-published books. Supplemented by an illustrated chronology and exhibition history, this publication captures the ceaseless reinvention that has defined his prolific, six-decade career.
Ed Ruscha (born 1937) was raised in Oklahoma City and moved to Los Angeles in 1956, where he attended the Chouinard Art Institute (now CalArts). First showing with the Ferus Gallery in the early 1960s, Ruscha was included in Walter Hopps' landmark Pop art show New Painting of Common Objects at the Pasadena Art Museum in 1962. He has since shown his work extensively, most recently in several medium-specific museum surveys, including the 2004 exhibition Cotton Puffs, Q-Tips®, Smoke and Mirrors: The Drawings of Ed Ruscha at the Whitney Museum of American Art, New York, which traveled to the Museum of Contemporary Art, Los Angeles, and the National Gallery of Art, Washington, DC, and the 2009 exhibition Ed Ruscha: Fifty Years of Painting at the Hayward Gallery, London, which traveled to the Haus der Kunst, Munich, and Moderna Museet, Stockholm. In 2005, he represented the United States at the 51st Venice Biennale. Ruscha lives and works in Los Angeles.




PRAISE AND REVIEWS

The New York Times: Arts

Roberta Smith

The most comprehensive survey to date of the artist's six-decade career

Artforum

David Platzker

The schemas of many of Ruscha's drawings and paintings establish his idealization of how information could be conveyed in a flash.

The New York Times: Arts

Jason Farago

Ed Ruscha, intrepid explorer of language and image, prefigured a digital culture of words on the move. A retrospective at MoMA shines new light on his groundbreaking career: the books, the paintings, the room made of chocolate.

ARTnews

Alex Greenberger

Think of Ruscha's oeuvre as a bizarre, decades-long bit about failures to communicate. It's the contemporary-art equivalent to "Who's on First?": an extended gag in which meaning slips between words like oil running across water.

New York Magazine: Vulture

Jerry Saltz

The keen observations and careful execution of these paintings speak to a maniacal tendency in America toward anger, billboards that are empty of sentences but have plenty to say.

Free Shipping

UPS GROUND IN THE CONTINENTAL U.S.
FOR CONSUMER ONLINE ORDERS

CORY REYNOLDS | DATE 9/15/2023

"Hey with Curled Edge" (1964) is reproduced from Ed Ruscha / Now Then, the definitive survey of the revered west coast Pop artist's work, published on the occasion of his career-spanning exhibition, on view now at MoMA. Collecting everything from his earliest works on paper to his classic, deadpan word paintings to his legendary self-published artist's books, photographs, prints and rare installations, this is a book for life. "I'm not just looking for pretty flowers to paint," he is quoted in the book. "There is a certain flavor of decadence that inspires me. And when I drive into some sort of industrial wasteland in America, with the themeparks and the warehouses, there's something saying something to me." continue to blog

THE MUSEUM OF MODERN ART, NEW YORK

ISBN: 9781633451506
USD $75.00

| CAN $108.5

Pub Date: 10/3/2023
Active | In stock




JRP|EDITIONS

ISBN: 9783037645383
USD $29.95

| CAN $41.95

Pub Date: 2/6/2024
Forthcoming




HATJE CANTZ

ISBN: 9783775744324
USD $45.00

| CAN $60

Pub Date: 6/26/2018
Active | In stock




STEIDL/GAGOSIAN GALLERY

ISBN: 9783958291867
USD $200.00

| CAN $270

Pub Date: 3/28/2017
Active | In stock




EDWARD TYLER NAHEM FINE ART

ISBN: 9780996918114
USD $65.00

| CAN $87

UK &pound 57

Pub Date: 8/23/2016
Active | In stock




STEIDL

ISBN: 9783869307404
USD $200.00

| CAN $270

Pub Date: 10/31/2014
Active | In stock




STEIDL

ISBN: 9783869302515
USD $200.00

| CAN $270

Pub Date: 11/15/2012
Active | In stock




RICHTER VERLAG

ISBN: 9783941263574
USD $49.95

| CAN $67.5

Pub Date: 1/31/2015
Active | In stock




STEIDL & PARTNERS

ISBN: 9783865218339
USD $200.00

| CAN $270

Pub Date: 10/31/2009
Active | In stock




STEIDL THE MASTERS

ISBN: 9783865213686
USD $200.00

| CAN $270

Pub Date: 7/1/2007
Active | In stock




STEIDL/GAGOSIAN GALLERY

ISBN: 9783865211385
USD $200.00

| CAN $270

Pub Date: 8/15/2005
Active | In stock




PARKETT

ISBN: 9783907582053
USD $32.00

| CAN $42.5

Pub Date: 6/2/1999
Active | In stock