ARTBOOK | DIGITAL
eBook Edition for iPad
Moby: Destroyed eBook
Photographs and Text by Moby.

eBook Design by ARTBOOK | DIGITAL and Apple

An Apple Exclusive Enhanced Ebook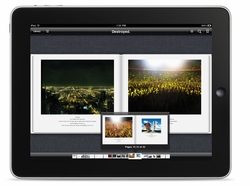 Like no other music of its era, Moby's oceanic, bluesy electronica has summed up the millennial turn's rootless melancholia, in massive worldwide hits like "Porcelain," "Natural Blues" and "Why Does My Heart Feel So Bad?" His 1999 album Play sold over ten million copies and converted a whole generation to electronic dance music. With Destroyed, Moby has created a visual analogue to his gorgeous sound world. The 93 photographs in this eBook edition record the sizeable portion of his life that is spent shuttling from plane to bus to venue to stage to party to hotel room to oblivion. "I hope that somehow in these pictures," Moby writes, "I'm able to convey the mundanity of touring, juxtaposed with those moments of the strange and/or sublime. One minute on tour you're by yourself in a soulless airport, the next minute you're flying over the most beautiful landscapes on the planet. One minute on tour you're by yourself in a soulless backstage area, the next minute you're on stage pouring your heart out to 75,000 people. Touring is all contrasts and strangeness, and that's what I'm trying to convey in these pictures." The photographs in Moby: Destroyed accordingly veer from crowdedness to isolation, capturing the extremes of a life lived on the road. Also in this eBook edition are bonus materials including three music and documentary videos and sixteen unpublished photographs. This eBook is published in conjunction with Moby's latest album and book, Destroyed, released in May 2011.

RICHARD HALL, aka MOBY, was born in Harlem, New York City, in 1965. Having studied classical guitar, piano and drums as a child, and after stints in various punk bands, he debuted in the early 1990s alongside Orbital, The Prodigy and Aphex Twin, as a representative of a new generation in electronica, emerging from Ambient House and Techno, and foreshadowing Trip Hop. Moby's bestselling 1999 album Play propelled him to worldwide fame; its successor, 18 (2002), earned gold and platinum awards in over 30 countries. Already famous for his veganism, Moby made his authorial debut in March 2010 as a contributor to Gristle: From Factory Farms to Food Safety, a collection of essays on the dangers of eating meat.
From packed stadiums to desolate airports, Moby's portrait of the bizarre extremes of life on the road.
BUY THE BOOK FOR IPAD
---
PRINTED BOOK EDITION
MOBY: DESTROYED
DAMIANI
ISBN: 9788862081559 | US $39.95
Pub Date: 5/31/2011
Out of print | Not available