BRIDGET LESLIE | DATE 5/23/2018
Bold, black lines seem to drip into entwined figures whose limbs transcend figure-ground, slowly trailing off until they rest in a space that is neither design nor portrait, but harmonious in every way. ART / BOOKS' beautiful facsimile edition of The Art of Aubrey Beardsley stands as a lasting epitaph to the remarkable English artist whose illustrations helped define the fin-de-siecle aesthetic.




Aubrey Beardsley (1872–98) epitomized the Art Nouveau design sensibility that rocked Victorian England in the nineteenth century. His spooky, seductive images were both controversial and reflective of the time. Shrouded in decadence and mystery, images like Kiss of Judas give us a momentary glimpse into a story that seems to be uncomfortably unfolding. Two figures—one a rather large-seeming woman, exhausted, resistant, reclining against a tree; the other a tiny, bald, naked old man pulling her forward—face outwards toward something or someone just beyond the frame of the page. The expressions on their faces are entirely different. Hers is vacant, even sad, while his is determined and dark. Has a betrayal occurred? We are left intrigued.




During his short lifetime—Beardsley erupted onto the scene as an untrained prodigy at the age of nineteen, and was prolific until his death from Tuberculosis at the age of twenty-five—the artist aligned himself with living writers of the time, most notoriously Oscar Wilde, whose play Salome he illustrated in fluid, abstracted natural forms. This pairing solidified Beardsley's place as a leader of the Art Nouveau movement.




Beardsley died on March 16, 1898, in Menton, France. The first edition of The Art of Aubrey Beardsley was published ten years later, in 1918, prefaced by two introductory texts by Beardsley's friend and collaborator, Arthur Symons, who concludes, "And thus in his last work, done under the very shadow of death, we find new possibilities for an art, conceived as pure line, conducted through mere pattern, which, after many hesitations, has resolved finally upon the great compromise, that compromise which the greatest artists have made, between the mind's outline and the outline of visible things."




Now, one hundred years later, this affordable, 4.25 x 6.5-inch clothbound facsimile re-presents the original, complete with beautiful gilt edges and a fine gold ribbon—a pocket-sized memento.




BRIDGET MOREEN LESLIE (pictured below) is an Australian-born, NYC-based artist with a focus on installation, sound, light and writing. She is interested in collapsing spatial and psychological barriers between class, noise, time, fashion, location, and body language. She received her BFA from Sydney College of the Arts, Sydney University, and her MFA from Parsons School of Design, New York.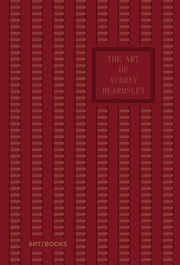 ART / BOOKS
Clth, 4.25 x 6.5 in. / 168 pgs / 64 b&w.