BOOK FORMAT
Clth, 6.5 x 9.25 in. / 292 pgs.
PUBLISHING STATUS
Pub Date 4/7/2020
Out of stock indefinitely
DISTRIBUTION
D.A.P. Exclusive
Catalog: SPRING 2020 p. 7
PRODUCT DETAILS
ISBN 9788862086950 TRADE
List Price: $39.95 CDN $55.95
AVAILABILITY
Not available
THE FALL 2023 ARTBOOK | D.A.P. CATALOG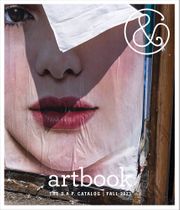 Preview our Fall 2023 catalog, featuring more than 500 new books on art, photography, design, architecture, film, music and visual culture.
&nbsp
&nbsp
Weegee's Naked City

Text by Christopher Bonanos, Christopher George.


Weegee's noir classic on the secret life of New York, now in a beautifully printed new edition

Weegee wandered the streets of 1940s New York at night looking for lovers, corpses and criminals to shoot for tabloid readers who "had to have their daily blood bath and sex potion to go with their breakfast" (as Weegee put it with characteristic flair). His images crackle with visual puns, blinding flashes and complex compositions; they display the bawdy sensationalism of the tabloids they were shot for and the stylishness of the film noir cinema that took inspiration from them.

With Naked City, his first publication, Weegee gave his images the photobook treatment. Weegee's eye for surprising juxtapositions and the minutiae of city life is in full force in the images chosen and their inventive, playful sequencing, all narrated in the photographer's own distinctive voice. Naked City is Weegee at his wisecracking best, and it is here republished in a beautifully printed new edition. Including texts by New York Magazine City Editor Christopher Bonanos and International Center of Photography Weegee specialist Christopher George, Naked City refreshes a photo classic.

Weegee, born Usher Fellig (1899–1968), started working in 1935 as a freelance news photographer specializing in nighttime scenes. He lived opposite police headquarters, installed a police radio in his car and had a knack for being the first on the scene (supposedly earning his nickname for this nearly psychic tendency). In addition to selling photos to local and national publications, Weegee published them in several books, including Naked City (1945), Weegee's People (1946) and Naked Hollywood (1953).




Featured image is reproduced from 'Weegee's Naked City.'

PRAISE AND REVIEWS

New York Magazine

slick new reprint...

BBC: Culture

Oliver Lunn

A loner and an outlier, Weegee took news snaps of people on the margins – which went on to influence photographers after his death. A new reissue of his classic photobook Naked City reveals the extraordinary power of his images.

4 Columns

Ed Halter

Little blasts of burning magnesium provide the incandescent force that reveals the nakedness of his book's title. Thumb through its amber-toned images of bar drunks, tenement sleepers, lip-locked lovers, paddy wagon–bound criminals, and various other denizens of Gotham's demimonde and see how such figures are compelled to emerge from the dark only by Weegee's flash, their visages suddenly and starkly illuminated for posterity.

Elephant

Emily Gosling

The renowned Ukrainian photographer's raucous take on New York was buzzy, alive and totally unexpected. As this book of images first released in 1945 shows, he saw the beauty of the city, even in its most debauched, disorderly moments.

Huck

Sara Rosen

Photographer Weegee would spend his nights roaming the city, documenting its secrets, subcultures and forgotten inhabitants.

Spectrum Culture

Pat Padua

It's history, entertainment and art in one bleeding, naked, lurid and introspective package, the whole range of life visible to one flawed, unflinching artist.

STATUS: Out of stock indefinitely.