Weegee
Museum Exhibition Catalogues, Monographs, Artist's Projects, Curatorial Writings and Essays
MONOGRAPHS & CATALOGS
Weegee
APERTURE
Hardcover, 8 x 8 in. / 96 pgs / 43 reproductions throughout. | 6/15/2005 | Not Available
$12.50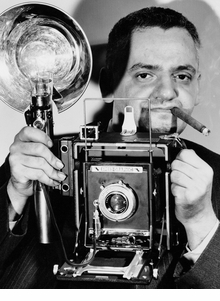 Weegee's Naked City
DAMIANI/INTERNATIONAL CENTER OF PHOTOGRAPHY
Weegee's noir classic on the secret life of New York, now in a beautifully printed new edition
Clth, 6.5 x 9.25 in. / 292 pgs. | 4/7/2020 | Not available
$39.95
Published by Damiani/International Center of Photography.
Text by Christopher Bonanos, Christopher George.
Weegee wandered the streets of 1940s New York at night looking for lovers, corpses and criminals to shoot for tabloid readers who "had to have their daily blood bath and sex potion to go with their breakfast" (as Weegee put it with characteristic flair). His images crackle with visual puns, blinding flashes and complex compositions; they display the bawdy sensationalism of the tabloids they were shot for and the stylishness of the film noir cinema that took inspiration from them.

With Naked City, his first publication, Weegee gave his images the photobook treatment. Weegee's eye for surprising juxtapositions and the minutiae of city life is in full force in the images chosen and their inventive, playful sequencing, all narrated in the photographer's own distinctive voice. Naked City is Weegee at his wisecracking best, and it is here republished in a beautifully printed new edition. Including texts by New York Magazine City Editor Christopher Bonanos and International Center of Photography Weegee specialist Christopher George, Naked City refreshes a photo classic.

Weegee, born Usher Fellig (1899–1968), started working in 1935 as a freelance news photographer specializing in nighttime scenes. He lived opposite police headquarters, installed a police radio in his car and had a knack for being the first on the scene (supposedly earning his nickname for this nearly psychic tendency). In addition to selling photos to local and national publications, Weegee published them in several books, including Naked City (1945), Weegee's People (1946) and Naked Hollywood (1953).
BOOK FORMAT
Clth, 6.5 x 9.25 in. / 292 pgs.
PUBLISHING STATUS
Pub Date 4/7/2020
Out of stock indefinitely
DISTRIBUTION
D.A.P. Exclusive
Catalog: SPRING 2020 p. 7
PRODUCT DETAILS
ISBN 9788862086950 TRADE
List Price: $39.95 CDN $55.95
AVAILABILITY
Not available
STATUS: Out of stock indefinitely.
Masters of Photography Series
Published by Aperture.
Photographs by Weegee.
Weegee the famous, as he liked to be called, was a major influence in the field of newspaper photography. Persistent and aggressive behind the camera, he always made sure that he was at the forefront of breaking news. As a photographer he went to the heart of ugly situations to illustrate the often gruesome realities of life in the city. Weegee's images scream at their audience. An assault to the eyes was created through his use of the flash's severe light; the harsh contrasts and deep shadows that resulted gave his images an extra jolt. Concerned more with the impact of his images than with the artistry, Weegee favored a tone of sarcasm and irony with a touch of compassion in his work. This book presents more than 40 images spanning photojournalist Weegee's career, along with a chronology, exhibition history and selected bibliography.


PUBLISHER


Aperture

BOOK FORMAT
Hardcover, 8 x 8 in. / 96 pgs / 43 reproductions throughout.

PUBLISHING STATUS
Pub Date 6/15/2005
No longer our product

DISTRIBUTION
Contact Publisher
Catalog:

PRODUCT DETAILS
ISBN 9780893817497 TRADE
List Price: $12.50 CDN $15.00

AVAILABILITY
Not Available