BOOK FORMAT
Hardcover, 11.75 x 9.5 in. / 104 pgs / 70 color.
PUBLISHING STATUS
Pub Date 9/26/2017
Active
DISTRIBUTION
D.A.P. Exclusive
Catalog: FALL 2017 p. 99
PRODUCT DETAILS
ISBN 9788862085472 TRADE
List Price: $35.00 CDN $47.50
AVAILABILITY
In stock
TERRITORY
NA LA
THE FALL 2023 ARTBOOK | D.A.P. CATALOG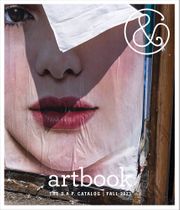 Preview our Fall 2023 catalog, featuring more than 500 new books on art, photography, design, architecture, film, music and visual culture.
Portraits that capture the hustle and bustle unique to the Big Apple.

THE ARTIST: Dan Ziskie is an American actor and photographer. His roles inlcude the character Frank Niggar on the popular comedyChappelle's Showand the Vice President on the first season of House of Cards. He lives in New York City
THE BOOK: Contemporary color photographs of people in public urban spaces i.e.midtown lunch hour, bus stop at rush hour.
&nbsp
&nbsp
Dan Ziskie: Cloud Chamber




Cloud Chamber is the first monograph by American actor and photographer Dan Ziskie, gathering photographs taken in New York between 2013 and 2016.

Ziskie grew up in Detroit, eventually moving to Chicago to work as an assistant for a commercial photographer. During this time, he also began to work in improvisational theater and in film and TV (his first film was Robert Altman's OC and Stiggs, and he has starred in House of Cards and Treme). He later moved to New York, where, inspired by the work ethic of Gary Winogrand, Ziskie hit the streets daily for several years, photographing with a digital 35mm camera. This volume gathers the results.




Featured image is reproduced from 'Dan Ziskie: Cloud Chamber.'

Free Shipping

UPS GROUND IN THE CONTINENTAL U.S.
FOR CONSUMER ONLINE ORDERS

CORY REYNOLDS | DATE 1/20/2018

Thursday, February 8 at 6PM, Rizzoli Bookstore presents actor and photographer Dan Ziskie in conversation with Joe Lawton, in celebration of Ziskie's new collection of street photographs, Cloud Chamber, published by Damiani. Refreshments and book signing to follow.
continue to blog

REEL ART PRESS

ISBN: 9781909526891
USD $49.95

| CAN $71.95

Pub Date: 11/7/2023
Forthcoming




DELPIRE & CO/D.A.P.

ISBN: 9781636811154
USD $125.00

| CAN $181

UK &pound 110

Pub Date: 10/10/2023
Active | In stock




DELMONICO BOOKS/THE JAY DEFEO FOUNDATION

ISBN: 9781636811116
USD $75.00

| CAN $108.5

UK &pound 67

Pub Date: 8/22/2023
Active | In stock




ATELIER ÉDITIONS

ISBN: 9781954957053
USD $50.00

| CAN $72.5

UK &pound 44

Pub Date: 11/7/2023
Forthcoming




NATIONAL PORTRAIT GALLERY

ISBN: 9781855145634
USD $49.95

| CAN $71.95

Pub Date: 8/8/2023
Active | In stock




EAKINS PRESS FOUNDATION

ISBN: 9780871300959
USD $65.00

| CAN $94

UK &pound 57

Pub Date: 10/24/2023
Forthcoming




FRAENKEL GALLERY

ISBN: 9781881337362
USD $65.00

| CAN $94

UK &pound 58

Pub Date: 6/13/2023
Active | Out of stock




ATELIER EXB

ISBN: 9782365113779
USD $55.00

| CAN $79

Pub Date: 11/7/2023
Forthcoming




THE MUSEUM OF MODERN ART, NEW YORK

ISBN: 9781633451520
USD $60.00

| CAN $87

Pub Date: 10/27/2023
Forthcoming




MANY VOICES PRESS

ISBN: 9780991218912
USD $65.00

| CAN $94

UK &pound 57

Pub Date: 10/3/2023
Active | In stock




MANY VOICES PRESS

ISBN: 9780991218929
USD $65.00

| CAN $94

UK &pound 57

Pub Date: 9/5/2023
Active | In stock




STEIDL/GORDON PARKS FOUNDATION/RALPH AND FANNY ELLISON CHARITABLE TRUST

ISBN: 9783969991800
USD $60.00

| CAN $84

Pub Date: 4/18/2023
Active | In stock