BOOK FORMAT
Paperback, 6.75 x 9 in. / 432 pgs / illustrated throughout.
PUBLISHING STATUS
Pub Date 4/30/2013
Out of print
DISTRIBUTION
D.A.P. Exclusive
Catalog: SPRING 2013 p. 67
PRODUCT DETAILS
ISBN 9788415691013 TRADE
List Price: $60.00 CDN $70.00
AVAILABILITY
Not available
TERRITORY
WORLD Excl LA Spain
EXHIBITION SCHEDULE
Madrid, Spain
Museo Reina Sofía, 10/03/12-01/07/13
THE FALL 2023 ARTBOOK | D.A.P. CATALOG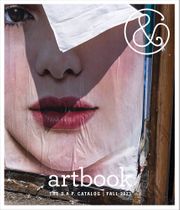 Preview our Fall 2023 catalog, featuring more than 500 new books on art, photography, design, architecture, film, music and visual culture.
&nbsp
&nbsp
Encounters with the 30s

Edited by Jordana Mendelson. Introduction by Manuel J. Borja-Villel. Text by Jordana Mendelson, Jeffrey T. Schnapp, Paul Wood, James Oles, Janine Mileaf, Tyrus Miller, Robert S. Lubar, Jutta Vinzent, Romy Golan, Katarina Schorb, François Gentili, Marie Vacher, Rocío Robles Tardío, Belén García Jiménez, Karen Fiss, Josep Renau, Javier Pérez Segura, Juan José Lahuerta, Robin Adèle Greeley, Olga Alexeeva, Alicia Alted Vigil, et al.


Preceded by the heroic modernism of the 1920s and abruptly curtailed by World War II, the heterogeneous art movements of the 1930s have been comparatively neglected as concurrent cultural phenomena. The 30s were much more than a period of transition or crisis, witnessing as they did the massive expansion of Surrealism, and fervent debate between new movements in abstract and realist painting. Political turbulence was of course rife at this time, with the rise of totalitarian governments and the outbreak of the Spanish Civil War, provoking a fluid migration of artists across borders and unlikely exchanges of ideas. Published to coincide with a major exhibition at the Reina Sofía Museum in Madrid, Encounters with the 30s explores the micro-histories of the decade. Surrealism is covered in detail, along with abstract art (such as the Concrete Art, Circle, American Abstract Artist and Abstraction–Creation movements) and Mexican Realism, and key exhibitions of the period (such as the Nazis' "Degenerate Art" shows and the World Fairs); photography, political poster art and the Spanish Civil War comprise other sections. The monograph is amply illustrated with works by Arp, Brassaï, Calder, Delaunay, Ernst, Gabo, Hepworth, Miró, Picasso, Weston and many lesser known artists of the era.


MOUSSE PUBLISHING

ISBN: 9788867493418
USD $33.00

| CAN $45

Pub Date: 2/19/2019
Active | In stock




WALTHER KöNIG, KöLN/AFTERALL BOOKS

ISBN: 9783753304267
USD $29.95

| CAN $43.95

Pub Date: 1/9/2024
Forthcoming




KARMA BOOKS, NEW YORK

ISBN: 9781949172980
USD $60.00

| CAN $85

UK &pound 51.5

Pub Date: 1/30/2024
Forthcoming




KAPH BOOKS

ISBN: 9786148035555
USD $40.00

| CAN $58

Pub Date: 1/16/2024
Forthcoming




SPECTOR BOOKS

ISBN: 9783959056779
USD $60.00

| CAN $87

Pub Date: 10/3/2023
Active | In stock




SILVANA EDITORIALE

ISBN: 9788836654260
USD $45.00

| CAN $65

Pub Date: 11/7/2023
Forthcoming




HATJE CANTZ

ISBN: 9783775755030
USD $70.00

| CAN $101.5

Pub Date: 12/12/2023
Forthcoming




SILVANA EDITORIALE

ISBN: 9788836652945
USD $45.00

| CAN $63

Pub Date: 5/30/2023
Active | Out of stock




FULGUR PRESS

ISBN: 9781399936484
USD $49.95

| CAN $69.95

Pub Date: 6/13/2023
Active | In stock




THE MUSEUM OF MODERN ART, NEW YORK

ISBN: 9781633451230
USD $45.00

| CAN $63

Pub Date: 4/18/2023
Active | In stock




LOUISIANA MUSEUM OF MODERN ART

ISBN: 9788793659599
USD $35.00

| CAN $49

UK &pound 30

Pub Date: 3/28/2023
Active | In stock




WALTHER KöNIG, KöLN

ISBN: 9783753302621
USD $45.00

| CAN $62

Pub Date: 1/10/2023
Active | Out of stock