BOOK FORMAT
Paperback, 5 x 7.5 in. / 224 pgs / illustrated throughout.
PUBLISHING STATUS
Pub Date 1/1/2015
Out of stock indefinitely
DISTRIBUTION
D.A.P. Exclusive
Catalog: Publisher Backlist
PRODUCT DETAILS
ISBN 9783944669496 TRADE
List Price: $25.00 CDN $34.50
AVAILABILITY
Not available
THE FALL 2023 ARTBOOK | D.A.P. CATALOG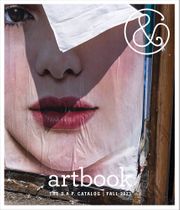 Preview our Fall 2023 catalog, featuring more than 500 new books on art, photography, design, architecture, film, music and visual culture.
&nbsp
&nbsp
Léo Favier: What, You Don't Know Grapus?




Grapus [ \gra-´pUEs] is a French graphic design collective founded in Paris immediately following the student protests of May 1968. The group saw life as a field for experimentation, putting the new political, social, and cultural debates into graphic form for public discussion. At first Grapus designed posters for local chapters of the Communist Party; twenty years on, they were chosen to design the corporate identity of the Louvre in Paris. By the late 1980s, the collective's productive days were over. In its heyday it had attracted many highly committed graphic artists both from France and abroad. After receiving the Grand Prix National des Arts Graphiques, the group decided to disband in 1990. Léo Favier set out in search of the former members of the collective. The twenty-six interviews in his book tell of the utopian working methods and heated disputes that were at the heart of this collective way of life.


STATUS: Out of stock indefinitely.

SET MARGINS' PUBLICATIONS

ISBN: 9789083318837
USD $16.95

| CAN $24.95

Pub Date: 8/1/2023
Forthcoming




RM/MUAC

ISBN: 9788419233417
USD $55.00

| CAN $79

Pub Date: 9/19/2023
Forthcoming




NAI010 PUBLISHERS

ISBN: 9789462087774
USD $40.00

| CAN $58

Pub Date: 8/8/2023
Forthcoming




LARS MüLLER PUBLISHERS

ISBN: 9783037787328
USD $35.00

| CAN $50.5

Pub Date: 1/2/2024
Forthcoming




LARS MüLLER PUBLISHERS

ISBN: 9783037787335
USD $50.00

| CAN $72.5

Pub Date: 11/7/2023
Forthcoming




SET MARGINS' PUBLICATIONS

ISBN: 9789083318820
USD $20.00

| CAN $29

Pub Date: 7/25/2023
Forthcoming




SET MARGINS' PUBLICATIONS

ISBN: 9789083318806
USD $27.00

| CAN $39

Pub Date: 8/22/2023
Forthcoming




SPECTOR BOOKS

ISBN: 9783959056977
USD $50.00

| CAN $72.5

Pub Date: 9/26/2023
Forthcoming




SET MARGINS' PUBLICATIONS

ISBN: 9789083270630
USD $17.00

| CAN $25

Pub Date: 8/1/2023
Forthcoming




SET MARGINS' PUBLICATIONS

ISBN: 9789083270609
USD $20.00

| CAN $29

Pub Date: 8/1/2023
Forthcoming




SET MARGINS' PUBLICATIONS

ISBN: 9789083270616
USD $15.00

| CAN $21.5

Pub Date: 8/1/2023
Forthcoming




NAI010 PUBLISHERS

ISBN: 9789462087354
USD $80.00

| CAN $112

Pub Date: 2/28/2023
Active | In stock