BOOK FORMAT
Paperback, 8 x 10 in. / 104 pgs / 44 color.
PUBLISHING STATUS
Pub Date 6/27/2017
Active
DISTRIBUTION
D.A.P. Exclusive
Catalog: FALL 2017 p. 116
PRODUCT DETAILS
ISBN 9781633450295 TRADE
List Price: $24.95 CDN $33.95
AVAILABILITY
In stock
THE FALL 2023 ARTBOOK | D.A.P. CATALOG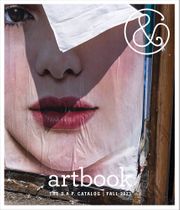 Preview our Fall 2023 catalog, featuring more than 500 new books on art, photography, design, architecture, film, music and visual culture.
Rauschenberg's illustrations for Dante's Inferno, a perfect pairing of art & literature

ABOUT ARTIST:Robert Rauschenberg (1925-2008) is currently the subject of a one man show at The Museum of Modern Art , New York, which will travel to San Francisco MoMA in the Fall. He ushered in a new era of postwar American art in the wake of Abstract Expressionism.
ABOUT BOOK: From 1958-1960 Rauschenberg made a series of 34 drawings, one for each Canto, or section, of Dante's poem The Inferno (1308-1321). The drawings combined watercolors with images from glossy magazines, including such popular figures as John F. Kennedy and Adlai Stevenson.
This affordable $24.95 book presents the complete set of drawings, with an introduction by curator Leah Dickerman and newly commissioned poetry from Kevin Young and Robin Coste Lewis. Should appeal to both ART and LITERARY audiences.
ABOUT AUTHORS: Kevin Young is the Director of the Schomburg Center for Research in Black Culture in NY. His most recent book is Blue Laws: Selected & Uncollected Poems 1995-2015 (Knopf, 2016). Robin Coste Lewis is American poet, author of Voyage of the Sable Venus (2015) which won the National Book Award for Poetry.
&nbsp
&nbsp
Robert Rauschenberg: Thirty-Four Illustrations for Dante's Inferno

Introduction by Leah Dickerman. Text by Kevin Young, Robin Coste Lewis.


Rauschenberg's inventive contemporaneous interpretation of Dante's Inferno

Between 1958 and 1960, Robert Rauschenberg produced a series of 34 drawings, one for each Canto, or section, of Dante's poem The Inferno (1308–1321). Together they are a virtual encyclopedia of modern-day imagery, made by transferring photographic reproductions from magazines or newspapers onto the drawing surface. "I think a picture is more like the real world when it's made out of the real world," Rauschenberg said. With additional imagery in pencil, crayon, pastel and collage, the drawings reflect Rauschenberg's desire to infiltrate his art with the scenes and sounds of the surrounding world, a radical departure from the more transcendent ambitions of Abstract Expressionism.

Published in conjunction with the first major retrospective on Rauschenberg's career since the artist's death in 2008, this book presents the complete set of 34 drawings, with an introduction by curator Leah Dickerman and newly commissioned poetry from Kevin Young and Robin Coste Lewis, each reflecting on a selection of drawings and their corresponding Cantos.




Free Shipping

UPS GROUND IN THE CONTINENTAL U.S.
FOR CONSUMER ONLINE ORDERS

THE MUSEUM OF MODERN ART, NEW YORK

ISBN: 9780870709579
USD $500.00

| CAN $665

Pub Date: 5/23/2017
Active | In stock




THE MUSEUM OF MODERN ART, NEW YORK

ISBN: 9781633450202
USD $75.00

| CAN $99

Pub Date: 12/6/2016
Active | In stock




THE MUSEUM OF MODERN ART, NEW YORK

ISBN: 9781633450219
USD $55.00

| CAN $72.5

Pub Date: 5/23/2017
Active | In stock




THADDAEUS ROPAC

ISBN: 9783901935695
USD $50.00

| CAN $72.5

Pub Date: 9/5/2023
Forthcoming




GALERIE THADDAEUS ROPAC

ISBN: 9782910055813
USD $48.00

| CAN $66

Pub Date: 7/5/2022
Active | Out of stock




GALERIE THADDAEUS ROPAC

ISBN: 9782910055868
USD $45.00

| CAN $62

Pub Date: 4/28/2020
Active | In stock




GALERIE THADDAEUS ROPAC

ISBN: 9780995745674
USD $50.00

| CAN $69.95

Pub Date: 4/28/2020
Active | Out of stock




THE MUSEUM OF MODERN ART, NEW YORK

ISBN: 9781633450295
USD $24.95

| CAN $33.95

Pub Date: 6/27/2017
Active | In stock




THE MUSEUM OF MODERN ART, NEW YORK

ISBN: 9780870709579
USD $500.00

| CAN $665

Pub Date: 5/23/2017
Active | In stock




THE MUSEUM OF MODERN ART, NEW YORK

ISBN: 9781633450219
USD $55.00

| CAN $72.5

Pub Date: 5/23/2017
Active | In stock




THE MUSEUM OF MODERN ART, NEW YORK

ISBN: 9781633450202
USD $75.00

| CAN $99

Pub Date: 12/6/2016
Active | In stock




GUGGENHEIM MUSEUM PUBLICATIONS

ISBN: 9780892073887
USD $45.00

| CAN $60

Pub Date: 7/31/2009
Active | In stock




THE MUSEUM OF MODERN ART, NEW YORK

ISBN: 9780870707674
USD $9.95

| CAN $14.95

Pub Date: 1/31/2010
Active | In stock




EDICIONES POLíGRAFA

ISBN: 9788434311237
USD $45.00

| CAN $60

Pub Date: 3/1/2007
Active | In stock