BOOK FORMAT
Clth, 9 x 10 in. / 152 pgs / 150 duotone.
PUBLISHING STATUS
Pub Date 5/1/2009
Out of stock indefinitely
DISTRIBUTION
D.A.P. Exclusive
Catalog: SPRING 2009 p. 12
PRODUCT DETAILS
ISBN 9780870707636 TRADE
List Price: $39.95 CDN $53.95
AVAILABILITY
Not available
TERRITORY
NA ONLY
EXHIBITION SCHEDULE
Madrid
La Casa Encendida, 03/26/09-06/13/09

Rovereto, Italy
Museo d'arte Moderna e Contemporanea, 07/04/09-10/04/09

Dublin
Irish Museum of Modern Art, 11/25/09-02/10/10
THE FALL 2023 ARTBOOK | D.A.P. CATALOG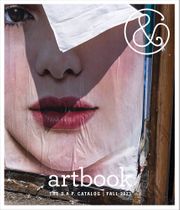 Preview our Fall 2023 catalog, featuring more than 500 new books on art, photography, design, architecture, film, music and visual culture.
&nbsp
&nbsp
Picturing New York: Photographs from The Museum of Modern Art

By Sarah Hermanson Meister.


The photographer Berenice Abbott once mused, "How shall the two-dimensional print in black-and-white suggest the flux of activity of the metropolis, the interaction of human beings and solid architectural constructions, all impinging upon each other in time?" Picturing New York presents a myriad of answers to this question. Depicting both the iconic New York that captivates the world's imagination and the idiosyncratic details that define New Yorkers' sense of home, this anthology of photographs from The Museum of Modern Art's extraordinary collection reveals New York in all its vitality, ambition and beauty. Taken by artists pursuing their own curiosity as well as professionals on assignment, the works reveal a deeply symbiotic relationship between photography and the city, each delving into a new corner of New York while expanding the boundaries of photography as an art form. The selection comprises both celebrated images and lesser-known gems from the collection, accompanied by evocative excerpts from literary works about New York.


STATUS: Out of stock indefinitely.

THE MUSEUM OF MODERN ART, NEW YORK

ISBN: 9780870707209
USD $19.95

| CAN $25

Pub Date: 10/1/2007
Out of stock indefinitely | Not available




APERTURE

ISBN: 9781597110136
USD $40.00

| CAN $50

Pub Date: 4/1/2007
No longer our product | Not Available




MARSILIO ARTE

ISBN: 9791254631263
USD $39.95

| CAN $56.95

UK &pound 33.99

Pub Date: 1/16/2024
Forthcoming




HATJE CANTZ

ISBN: 9783775755610
USD $65.00

| CAN $88

Pub Date: 12/19/2023
Active | In stock




LA FáBRICA

ISBN: 9788418934612
USD $42.00

| CAN $62

UK &pound 36

Pub Date: 1/16/2024
Forthcoming




INTERNATIONAL CENTER OF PHOTOGRAPHY/D.A.P.

ISBN: 9781636811178
USD $49.95

| CAN $71.95

UK &pound 43.99

Pub Date: 7/4/2023
Active | In stock




HATJE CANTZ

ISBN: 9783775754668
USD $62.00

| CAN $89

Pub Date: 7/4/2023
Active | Out of stock




HATJE CANTZ

ISBN: 9783775755016
USD $49.95

| CAN $71.95

Pub Date: 9/19/2023
Active | In stock




HATJE CANTZ

ISBN: 9783775754804
USD $65.00

| CAN $94

Pub Date: 6/6/2023
Active | In stock




HATJE CANTZ

ISBN: 9783775755191
USD $50.00

| CAN $72.5

Pub Date: 8/15/2023
Active | In stock




KERBER

ISBN: 9783735609120
USD $55.00

| CAN $79

Pub Date: 9/26/2023
Active | In stock




KERBER

ISBN: 9783735609021
USD $45.00

| CAN $65

Pub Date: 9/26/2023
Active | In stock




MOUSSE PUBLISHING

ISBN: 9788867495726
USD $40.00

| CAN $58

Pub Date: 9/19/2023
Active | In stock




OSMOS BOOKS

ISBN: 9781734555707
USD $60.00

| CAN $87

UK &pound 54

Pub Date: 1/9/2024
Forthcoming