BADLANDS UNLIMITED
eBook Editions for iPad and Kindle
Yvonne Rainer Poems eBook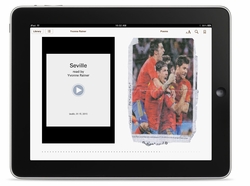 Poems is a collection of never before published poems by choreographer and filmmaker Yvonne Rainer. Full of wit and candor, they offer a window into the life and mind of one of America's greatest living artists. Accompanying the poems is a selection of images curated by Rainer and an introduction by poet and critic Tim Griffin.

About Yvonne Rainer Yvonne Rainer was born in San Francisco in 1934. She trained as a modern dancer in New York and began to choreograph her own work in l960. She was one of the founders of the Judson Dance Theater in l962, a movement that proved to be a vital force in modern art and dance in the following decades. Since 1972, Rainer has completed seven feature-length films, beginning with Lives of Performers (1972) and more recently The Man Who Envied Women (1985), Privilege (1990), and MURDER and murder (1996). A memoir, Feelings are Facts: a Life, was published by MIT Press in 2006.
The enhanced eBook includes audio of Rainer reading five of the poems, an interview conducted by artist Paul Chan with Rainer about her process as an artist and poet, and a video excerpt of "Trio A" (1966), the legendary dance piece choreographed and performed by Rainer.
BUY FROM THESE VENDORS
---
PRINTED BOOK EDITION
POEMS BY YVONNE RAINER
Introduction by Tim Griffin.
BADLANDS UNLIMITED
ISBN: 9781936440108 | US $12.00
Pub Date: 8/31/2012
Active | In stock