Transmissions from the Pleroma
Edited by Lawrence Kumpf, Tyler Maxin. Text by Karen Finley, Shelley Hirsch, George E. Lewis, Gordon Monahan, Kris Paulsen, David Rosenbloom.
Jerry Hunt (1943–93) is sometimes described as a shamanic figure with the look of a "Central Texas meat inspector." One of the most compelling composers in the word of late 20th-century new music, he made >>more

Blank Forms Editions
ISBN 9781953691057
US $20.00 CAN $27.00 TRADE
Pbk, 6 x 8 in. / 250 pgs / 25 color / 25 b&w.
Pub Date: 05/24/2022 In stock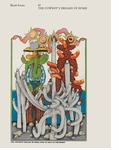 The Cowboy's Dreams of Home
Edited by Lawrence Kumpf, Joe Bucciero. Text by Angel Bat Dawid, Charles Curtis, René Daumal, Thulani Davis, Anthony Elms, Ciarán Finlayson, Jessica Hagedorn, Judith Hamann, Sarah Hennies, Alan Licht, Tashi Wada.
This iteration privileges new texts produced for the publication. These include an interview with the idiosyncratic Texan singer-songwriter and visual artist Terry Allen, conducted by curator Anthony Elms; a conversation between writers—and longtime friends—Thulani Davis >>more

Blank Forms Editions
ISBN 9781733723596
US $20.00 CAN $28.00 TRADE
Pbk, 6 x 8 in. / 242 pgs / 6 color / 14 b&w.
Pub Date: 09/07/2021 In stock