BOOK FORMAT
Hardcover, 7.25 x 10.5 in. / 92 pgs / 38 color.
PUBLISHING STATUS
Pub Date 2/19/2019
Out of stock indefinitely
DISTRIBUTION
D.A.P. Exclusive
Catalog: SPRING 2019 p. 159
PRODUCT DETAILS
ISBN 9788862086400 TRADE
List Price: $30.00 CDN $45.00
AVAILABILITY
Not available
TERRITORY
NA LA
EXHIBITION SCHEDULE
Providence, RI
Brown University, The Warren Alpert Medical School, 02/01/19–05/31/19
THE FALL 2023 ARTBOOK | D.A.P. CATALOG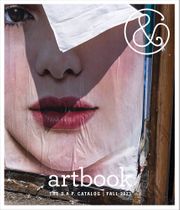 Preview our Fall 2023 catalog, featuring more than 500 new books on art, photography, design, architecture, film, music and visual culture.
&nbsp
&nbsp
Rohina Hoffman: Hair Stories

Text by Emily Lambert-Clements, Esther R. Berry, Rohina Hoffman.


Hair Stories is a series of excerpted interviews and color portraits of a diverse array of women, that explores the complex relationship women have with their hair. Indian-born, Los Angeles–based photographer Rohina Hoffman deployed the interviewing skills she has developed in her training as a neurologist to establish an intimate rapport that allowed for a truthful dialogue about the role of hair in these womens' lives. Though it was conceived and shot before the #MeToo movement, this salient project presents hair as a metaphor for identity, femininity and the manner in which women struggle for control over their own bodies in a misogynistic world. Hair Stories shows that hair is more than just style or aesthetics; it is a physical manifestation of the ongoing hope and history of women.




Featured image is reproduced from 'Rohina Hoffman: Hair Stories.'

STATUS: Out of stock indefinitely.

CORY REYNOLDS | DATE 5/18/2019

Saturday, May 18 from 4–6 PM, Hair Stories author Rohina Hoffman will appear in conversation with Aline Smithson at Arcana: Books on the Arts in Culver City. Book signing to follow.
continue to blog

REEL ART PRESS

ISBN: 9781909526891
USD $49.95

| CAN $71.95

Pub Date: 11/7/2023
Forthcoming




DELPIRE & CO/D.A.P.

ISBN: 9781636811154
USD $125.00

| CAN $181

UK &pound 110

Pub Date: 10/10/2023
Active | In stock




DELMONICO BOOKS/THE JAY DEFEO FOUNDATION

ISBN: 9781636811116
USD $75.00

| CAN $108.5

UK &pound 67

Pub Date: 8/22/2023
Active | In stock




ATELIER ÉDITIONS

ISBN: 9781954957053
USD $50.00

| CAN $72.5

UK &pound 44

Pub Date: 12/5/2023
Forthcoming




NATIONAL PORTRAIT GALLERY

ISBN: 9781855145634
USD $49.95

| CAN $71.95

Pub Date: 8/8/2023
Active | In stock




EAKINS PRESS FOUNDATION

ISBN: 9780871300959
USD $65.00

| CAN $94

UK &pound 57

Pub Date: 10/24/2023
Active | In stock




FRAENKEL GALLERY

ISBN: 9781881337362
USD $65.00

| CAN $94

UK &pound 58

Pub Date: 6/13/2023
Active | Out of stock




ATELIER EXB

ISBN: 9782365113779
USD $55.00

| CAN $79

Pub Date: 11/7/2023
Forthcoming




THE MUSEUM OF MODERN ART, NEW YORK

ISBN: 9781633451520
USD $60.00

| CAN $87

Pub Date: 12/5/2023
Forthcoming




MANY VOICES PRESS

ISBN: 9780991218912
USD $65.00

| CAN $94

UK &pound 57

Pub Date: 10/3/2023
Active | In stock




MANY VOICES PRESS

ISBN: 9780991218929
USD $65.00

| CAN $94

UK &pound 57

Pub Date: 9/5/2023
Active | In stock




STEIDL/GORDON PARKS FOUNDATION/RALPH AND FANNY ELLISON CHARITABLE TRUST

ISBN: 9783969991800
USD $60.00

| CAN $84

Pub Date: 4/18/2023
Active | In stock