PUBLISHER
BOOK FORMAT
Paperback, 8.5 x 10.5 in. / 120 pgs / 100 color.
PUBLISHING STATUS
Pub Date 4/30/2013
Out of print
DISTRIBUTION
D.A.P. Exclusive
Catalog: SPRING 2013 p. 148
PRODUCT DETAILS
ISBN 9788836623686 TRADE
List Price: $38.00 CDN $45.00
AVAILABILITY
Not available
TERRITORY
NA LA ASIA AU/NZ AFR ME
EXHIBITION SCHEDULE
La Spezia, Italy
Centro d'arte Moderna e Contemporanea, 10/20/12-03/24/13
THE FALL 2023 ARTBOOK | D.A.P. CATALOG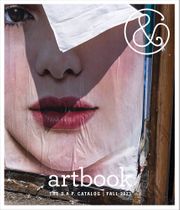 Preview our Fall 2023 catalog, featuring more than 500 new books on art, photography, design, architecture, film, music and visual culture.
&nbsp
&nbsp
Abstraction in Italy 1930-1980

Edited by Matteo Fochessati. Text by Roberta Cremoncini, Marzia Ratti, Francesca Serrati, Eliana Mattiauda.


Italian abstraction stemmed from the pioneering experiments of Futurist and Cubo-Futurist artists such as Giacomo Balla and Virginio (Gino) Ghiringhelli. This catalogue presents half a century of Italian abstraction, starting with the Futurist movement and going on to explore both the geometric abstraction of the postwar Movimento Arte Concreta, and the more organic work of those artists influenced by Art Informel, such as Emilio Vedoca, Lucio Fontana and Piero Manzoni. Drawn from the three principal museums of modern and contemporary art in the Liguria region of Northern Italy--Genoa's Villa Croce, La Spezia's Centro Arte Moderna e Contemporanea and the Pinacoteca Civica of Savona--Abstraction In Italy reveals the incredible wealth and variety of abstract art in Italy during this period and the strong links forged by its protagonists with the international art scene.


MOUSSE PUBLISHING

ISBN: 9788867493418
USD $33.00

| CAN $45

Pub Date: 2/19/2019
Active | In stock




WALTHER KöNIG, KöLN/AFTERALL BOOKS

ISBN: 9783753304267
USD $29.95

| CAN $43.95

Pub Date: 3/5/2024
Forthcoming




KARMA BOOKS, NEW YORK

ISBN: 9781949172980
USD $60.00

| CAN $85

UK &pound 51.5

Pub Date: 12/19/2023
Active | In stock




KAPH BOOKS

ISBN: 9786148035555
USD $40.00

| CAN $58

Pub Date: 1/16/2024
Forthcoming




SPECTOR BOOKS

ISBN: 9783959056779
USD $60.00

| CAN $87

Pub Date: 10/3/2023
Active | Out of stock




SILVANA EDITORIALE

ISBN: 9788836654260
USD $45.00

| CAN $65

Pub Date: 11/7/2023
Active | In stock




HATJE CANTZ

ISBN: 9783775755030
USD $70.00

| CAN $101.5

Pub Date: 1/16/2024
Forthcoming




SILVANA EDITORIALE

ISBN: 9788836652945
USD $45.00

| CAN $63

Pub Date: 5/30/2023
Active | Out of stock




FULGUR PRESS

ISBN: 9781399936484
USD $49.95

| CAN $69.95

Pub Date: 6/13/2023
Active | In stock




THE MUSEUM OF MODERN ART, NEW YORK

ISBN: 9781633451230
USD $45.00

| CAN $63

Pub Date: 4/18/2023
Active | In stock




LOUISIANA MUSEUM OF MODERN ART

ISBN: 9788793659599
USD $35.00

| CAN $49

UK &pound 30

Pub Date: 3/28/2023
Active | In stock




WALTHER KöNIG, KöLN

ISBN: 9783753302621
USD $45.00

| CAN $62

Pub Date: 1/10/2023
Active | Out of stock