BOOK FORMAT
Clth, 9.75 x 13 in. / 222 pgs / illustrated throughout.
PUBLISHING STATUS
Pub Date 9/30/2014
Out of stock indefinitely
DISTRIBUTION
D.A.P. Exclusive
Catalog: FALL 2014
PRODUCT DETAILS
ISBN 9783869306889 TRADE
List Price: $100.00 CDN $132.50
AVAILABILITY
Not available
TERRITORY
NA ONLY
THE FALL 2023 ARTBOOK | D.A.P. CATALOG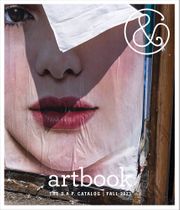 Preview our Fall 2023 catalog, featuring more than 500 new books on art, photography, design, architecture, film, music and visual culture.
&nbsp
&nbsp
Jim Goldberg: Rich and Poor




From 1977 to 1985, Jim Goldberg photographed the wealthy and destitute of San Francisco, creating a visual document that has since become a landmark work. Through the combination of text and photographs, Rich and Poor's mass appeal was instantly recognizable. In 1984 the series was exhibited alongside Robert Adams and Joel Sternfeld in the Three Americansexhibition at The Museum of Modern Art in New York, and was published the following year by Random House. Out of print since 1985, Rich and Poor has been completely redesigned and expanded by the artist for this Steidl edition. Available for the first time in hardcover, Rich and Poor builds upon the classic combination of photographs and handwriting and adds a surplus of vintage material and contemporary photographs that have never been published or exhibited. The photographs in Rich and Poor constitute a shocking and gripping portrait of America during the 1970s and 80s that remains just as relevant today


PRAISE AND REVIEWS

Juxtapoz

The Editors

At 222 pages, Rich and Poor begins with the underprivileged and gradually works it's way to wealth, with many of the prints accompanied by the subject's own handwritten comments about themselves. Gorgeously designed and thoughtfully edited, this book is a standout amongst current photography book.

rangefinderonline.com

Andre Crump

This study of the wealthy and the very less-than in San Francisco was created between 1977 and 1985, and was featured as part of the "Three Americans" exhibition at the Museum of Modern Art. Using a combination of photographs and text, this photo essay truly brings to the viewer not just the sense of the times, but also of the hopes, dreams and (very likely) future disappointments of the subjects.

One striking image among many is that of a young man with a cat and a hat living in a transient hotel who states that his goal one day "is to build an empire." This volume is a redesign and reissue of an out-of-print 1985 edition.

Mother Jones

Mark Murrmann

Every write-up of this reprint mentions how it's as poignant today as back in 1985 when it was published. As the title suggests, the book, shot in San Francisco from the late '70s through the mid-'80s, is a study of the very wealthy and the very poor. In what was to become his trademark style, Jim Goldberg photographs subjects and then has them write something about themselves on the print. Of course, San Francisco is a different city now, with the income gap between rich and poor having grown to an enormous chasm. For the redesigned book, available in hardback, Goldberg added a few photos revisiting locations and people he shot for the original.

Photo Book Magazine

Miwa Susuda

Although three decades have passed since its original publication, this new, expanded edition of Jim Goldberg's Rich and Poor continues to resonate truth in many people's hearts and attracts a new generation of photo-book lovers. This is proof of a masterpiece.

Crave Online

Miss Rosen

Available for the first time in hardcover, Rich and Poor is exquisitely printed and produced with a surplus of vintage materials and contemporary photographs that have never been published or exhibited.

STATUS: Out of stock indefinitely.