BOOK FORMAT
Clth, 11.25 x 14.75 in. / 0 pgs / illustrated throughout.
PUBLISHING STATUS
Pub Date 2/15/2012
Out of stock indefinitely
DISTRIBUTION
D.A.P. Exclusive
Catalog: FALL 2014
PRODUCT DETAILS
ISBN 9783869304472 TRADE
List Price: $450.00 CDN $540.00
AVAILABILITY
Not available
TERRITORY
NA ONLY
THE FALL 2023 ARTBOOK | D.A.P. CATALOG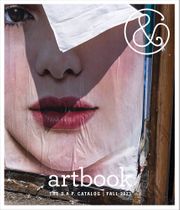 Preview our Fall 2023 catalog, featuring more than 500 new books on art, photography, design, architecture, film, music and visual culture.
&nbsp
&nbsp
Alber Elbaz: Lanvin

Edited by Shelly Berthime, Pascal Dangin. Photographs by But Sou Lai.


In March 2002, Alber Elbaz debuted his first collection for Lanvin, the oldest couture house in Paris. One decade later, Lanvin has become one of the most celebrated fashion houses for its uniquely modern vision and desirable designs. Alber Elbaz: Lanvin documents the journey of one collection, from the first sketch to the final runway show. These images not only unveil the continuous process of design, the behind-the-scenes work in progress, but also the human side of creating a collection. "Each collection is always different, but the process of creating is always the same," says Alber. The monograph is the result of a close collaboration with Pascal Dangin, who edited and created a book that transcends Elbaz's vision and sensibilities. Photographer But Sou Lai's poetic and sensitive images mirror Alber's work.


STATUS: Out of stock indefinitely.

STEIDL

ISBN: 9783969992111
USD $175.00

| CAN $255

Pub Date: 12/12/2023
Active | In stock




SILVANA EDITORIALE/QATAR MUSEUMS

ISBN: 9788836654499
USD $85.00

| CAN $123

Pub Date: 12/19/2023
Active | In stock




SILVANA EDITORIALE

ISBN: 9788836653768
USD $45.00

| CAN $65

Pub Date: 10/31/2023
Active | In stock




BAGGU CORPORATION

ISBN: 9798218017798
USD $65.00

| CAN $90

UK &pound 57

Pub Date: 12/6/2022
Active | In stock




MOUSSE PUBLISHING

ISBN: 9788867496181
USD $55.00

| CAN $77

Pub Date: 4/4/2023
Active | In stock




LARS MüLLER PUBLISHERS

ISBN: 9783037787076
USD $88.00

| CAN $123

Pub Date: 12/6/2022
Active | In stock




NAI010 PUBLISHERS

ISBN: 9789462087170
USD $45.00

| CAN $63

Pub Date: 6/21/2022
Active | In stock




LARS MüLLER PUBLISHERS

ISBN: 9783037787007
USD $50.00

| CAN $69

Pub Date: 1/24/2023
Active | In stock




DELMONICO BOOKS/MUSEUM OF CONTEMPORARY ART CHICAGO

ISBN: 9781636810744
USD $79.95

| CAN $104.95

UK &pound 67.99

Pub Date: 8/9/2022
Active | In stock




SILVANA EDITORIALE

ISBN: 9788836650354
USD $55.00

| CAN $76

Pub Date: 6/7/2022
Active | In stock




DELMONICO BOOKS/LOS ANGELES COUNTY MUSEUM OF ART

ISBN: 9781636810188
USD $49.95

| CAN $67.95

UK &pound 39.99

Pub Date: 5/10/2022
Active | In stock




EDITION PATRICK FREY

ISBN: 9783907236239
USD $70.00

| CAN $101.5

Pub Date: 11/7/2023
Active | In stock