BOOK FORMAT
Hardcover, 11.5 x 13.25 in. / 304 pgs / 120 color.
PUBLISHING STATUS
Pub Date 5/31/2014
Out of stock indefinitely
DISTRIBUTION
D.A.P. Exclusive
Catalog: SPRING 2014 p. 19
PRODUCT DETAILS
ISBN 9783775737692 TRADE
List Price: $85.00 CDN $112.50
AVAILABILITY
Not available
EXHIBITION SCHEDULE
Brussels, Belgium
BOZAR, 02/22/14-09/03/14

Tel Aviv, Israel
Tel Aviv Museum of Art, 09/04/14-01/31/15

Dallas, TX
Dallas Museum of Art, 03/15/15-07/05/15
DOWNLOAD THE SPRING 2023 CATALOG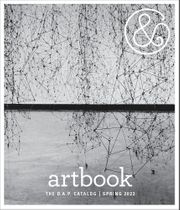 Preview our Spring 2023 catalog, featuring more than 500 new books on art, photography, design, architecture, film, music and visual culture.
&nbsp
&nbsp
MichaŽl Borremans: As Sweet as It Gets

Edited by Jeffrey Grove. Text by Michael Amy, Hans Christ, David Coggins, Martin Germann, Jeffrey Grove, Jan Hoet, Jeffrey Kastner, David Lynch, Charlotte Mullins et al.


Since the late 1990s, when he first began to produce drawings and paintings, MichaŽl Borremans has created an extraordinarily mature body of work that has captured international attention. The disparate spaces he imagines in his paintings, drawings, sculptures and films are unified by an uncanny sense of dislocation and an often unsettling beauty. Rendered in complex palettes and exquisite techniques, Borremansí works in all media embrace a rich legacy of artistic progenitors, but remain firmly anchored in the present. Presenting over 100 works created by the artist over a 14-year period in all media, this publication includes many works not previously reproduced in books or catalogues, offering the most complete overview of Borremansí oeuvre to date. Contributions include a concise and incisive overview of Borremansí practice; a revealing, in-depth interview between the main author of the book, Jeffrey Grove, and the artist, addressing process, influence and philosophical and critical issues; as well as more than 50 individual entries and mini-essays on individual works in the artistís oeuvre by notable writers, curators, filmmakers and musicians. Described by the artist as "the mother of all Borremans books," MichaŽl Borremans: As Sweet As It Gets is published on the occasion of a major mid-career retrospective.
Initially trained in photography and graphic design, the Belgian artist MichaŽl Borremans (born 1963) turned to painting at the age of 30. Work by the artist is held in numerous public collections, including The Art Institute of Chicago; High Museum of Art, Atlanta, Georgia; Museum of Contemporary Art, Los Angeles; Museum of Fine Arts, Boston; The Museum of Modern Art, New York; National Gallery of Canada, Ottawa; San Francisco Museum of Modern Art; and the Walker Art Center, Minneapolis, Minnesota. Borremans lives and works in Ghent.


"The Ear" (2011) is reproduced from MichaŽl Borremans: As Sweet as It Gets.

PRAISE AND REVIEWS

Document

David Lynch

There is in his work the magic to make us dream.

STATUS: Out of stock indefinitely.

CORY REYNOLDS | DATE 5/12/2014

"Like MichaŽl Borremans himself, the title of his mid-career survey As Sweet as It Gets is, on one level, humorous and open, and yet also possessed of potentially darker intentions. The expression 'as sweet as it gets' seems emphatic and clear: it conveys nothing less than a feeling of absolute contentment, the sense that everything is right with the world. At the same time, this simple phrase, oddly familiar and intentionally vague, raises any number of questions. Connotation is everything of course, and meaning is often determined solely by inflection. As anyone who has spent time in the American South knows, for instance, the innocuous wish, 'Good for you!' can mean either 'aren't you great' or 'arenít you stupid!' In a similar vein, As Sweet as It Gets may imply either the embrace of a sunny present or a resigned acceptance that things are as bad as they will ever get. The tense ambiguity lingering in that expression provides an appropriate metaphor for MichaŽl Borremansí work, characterized as it is by subtle symmetries of stunning beauty and disturbing abjection, humor and despair, strength and fragility, and life and death. For lurking in the shadows of the sunny construction, 'as sweet as it gets,' resides something darker: a sensibility that recognizes that if anything is 'as sweet as it can get,' it can quite easilyóand will most likelyósoon turn bitter." Excerpt from Jeffrey Grove's essay and Borremans' 2008 painting "The Trees" are reproduced from Hatje Cantz's remarkable new oversized volume. continue to blog