BOOK FORMAT
Hardcover, 8.25 x 11.75 in. / 192 pgs / 415 images.
PUBLISHING STATUS
Pub Date 11/17/2014
Out of print
DISTRIBUTION
D.A.P. Exclusive
Catalog: Publisher Backlist
PRODUCT DETAILS
ISBN 9783037784334 TRADE
List Price: $40.00 CDN $54.00
AVAILABILITY
Not available
TERRITORY
NA ONLY
THE FALL 2023 ARTBOOK | D.A.P. CATALOG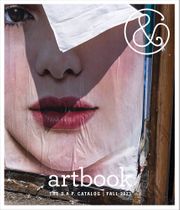 Preview our Fall 2023 catalog, featuring more than 500 new books on art, photography, design, architecture, film, music and visual culture.
&nbsp
&nbsp
Sensing the Future: Moholy-Nagy, Media and the Arts

By Oliver Botar.


Life in the digital economy of information and images enriches us but often induces a sense of being overwhelmed. Sensing the Future: Moholy-Nagy, Media and the Arts considers the impact of technology by exploring ways it was addressed in the practice of the Hungarian polymath artist László Moholy-Nagy (1895-1946), a prominent professor at the Bauhaus and a key figure in the history of Modernism. Moholy-Nagy felt that people needed guidance to cope with the onslaught of sensory input in an increasingly technologized, mediatized, hyper-stimulating environment. His ideas informed media theorists such as Walter Benjamin, John Cage, Sigfried Giedion, and Marshall McLuhan, who anticipated digital culture as it emerged. Should we then regard Moholy-Nagy as a pioneer of the digital? His aesthetic engagement with the technology/body problematic broached the notions of immersion, interactivity and bodily participation, innately offering a critique of today's disembodiment. Was he then both a pioneer and a proto-critic of the digital? This book is intended to introduce this seminal figure of post-medial practices to younger generations and, by including responses to his work by contemporary artists, to reflect on the ways in which his work is relevant to artistic practice now.




MOUSSE PUBLISHING

ISBN: 9788867493418
USD $33.00

| CAN $45

Pub Date: 2/19/2019
Active | In stock




WALTHER KöNIG, KöLN/AFTERALL BOOKS

ISBN: 9783753304267
USD $29.95

| CAN $43.95

Pub Date: 11/14/2023
Forthcoming




KARMA BOOKS, NEW YORK

ISBN: 9781949172980
USD $60.00

| CAN $85

UK &pound 51.5

Pub Date: 10/31/2023
Forthcoming




KAPH BOOKS

ISBN: 9786148035555
USD $40.00

| CAN $58

Pub Date: 1/16/2024
Forthcoming




SPECTOR BOOKS

ISBN: 9783959056779
USD $60.00

| CAN $87

Pub Date: 10/3/2023
Active | In stock




SILVANA EDITORIALE

ISBN: 9788836654260
USD $45.00

| CAN $65

Pub Date: 11/7/2023
Forthcoming




HATJE CANTZ

ISBN: 9783775755030
USD $70.00

| CAN $101.5

Pub Date: 12/12/2023
Forthcoming




SILVANA EDITORIALE

ISBN: 9788836652945
USD $45.00

| CAN $63

Pub Date: 5/30/2023
Active | Out of stock




FULGUR PRESS

ISBN: 9781399936484
USD $49.95

| CAN $69.95

Pub Date: 6/13/2023
Active | In stock




THE MUSEUM OF MODERN ART, NEW YORK

ISBN: 9781633451230
USD $45.00

| CAN $63

Pub Date: 4/18/2023
Active | In stock




LOUISIANA MUSEUM OF MODERN ART

ISBN: 9788793659599
USD $35.00

| CAN $49

UK &pound 30

Pub Date: 3/28/2023
Active | In stock




WALTHER KöNIG, KöLN

ISBN: 9783753302621
USD $45.00

| CAN $62

Pub Date: 1/10/2023
Active | Out of stock