BOOK FORMAT
Hardcover, 6.5 x 9.5 in. / 472 pgs.
PUBLISHING STATUS
Pub Date 7/23/2007
Out of print
DISTRIBUTION
D.A.P. Exclusive
Catalog: Publisher Backlist
PRODUCT DETAILS
ISBN 9783037781050 TRADE
List Price: $70.00 CDN $90.00
AVAILABILITY
Not available
TERRITORY
NA ONLY
THE FALL 2023 ARTBOOK | D.A.P. CATALOG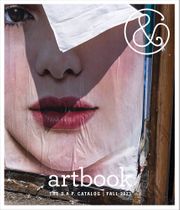 Preview our Fall 2023 catalog, featuring more than 500 new books on art, photography, design, architecture, film, music and visual culture.
&nbsp
&nbsp
Designing Design

By Kenya Hara.


Representing a new generation of designers in Japan, Kenya Hara (born 1958) pays tribute to his mentors, using long overlooked Japanese icons and images in much of his work. In Designing Design, he impresses upon the reader the importance of emptiness in both the visual and philosophical traditions of Japan, and its application to design, made visible by means of numerous examples from his own work: Hara for instance designed the opening and closing ceremony programs for the Nagano Winter Olympic Games 1998. In 2001, he enrolled as a board member for the Japanese label MUJI and has considerably moulded the identity of this successful corporation as communication and design advisor ever since. Kenya Hara, alongside Naoto Fukasawa one of the leading design personalities in Japan, has also called attention to himself with exhibitions such as Re-Design: The Daily Products of the 21st Century.




SPECTOR BOOKS

ISBN: 9783959057486
USD $20.00

| CAN $28

Pub Date: 3/5/2024
Forthcoming




SPECTOR BOOKS

ISBN: 9783959057479
USD $20.00

| CAN $28

Pub Date: 3/5/2024
Forthcoming




NAI010 PUBLISHERS

ISBN: 9789462087774
USD $40.00

| CAN $58

Pub Date: 10/3/2023
Active | In stock




RM/MUAC

ISBN: 9788419233417
USD $55.00

| CAN $79

Pub Date: 11/7/2023
Forthcoming




SET MARGINS' PUBLICATIONS

ISBN: 9789083318820
USD $20.00

| CAN $29

Pub Date: 9/5/2023
Active | In stock




SET MARGINS' PUBLICATIONS

ISBN: 9789083270616
USD $15.00

| CAN $21.5

Pub Date: 9/5/2023
Active | In stock




LARS MüLLER PUBLISHERS

ISBN: 9783037787328
USD $35.00

| CAN $50.5

Pub Date: 10/3/2023
Active | In stock




LARS MüLLER PUBLISHERS

ISBN: 9783037787335
USD $50.00

| CAN $72.5

Pub Date: 1/9/2024
Forthcoming




SET MARGINS' PUBLICATIONS

ISBN: 9789083318806
USD $27.00

| CAN $39

Pub Date: 1/9/2024
Forthcoming




SET MARGINS' PUBLICATIONS

ISBN: 9789083270609
USD $20.00

| CAN $29

Pub Date: 9/5/2023
Active | In stock




SET MARGINS' PUBLICATIONS

ISBN: 9789083318837
USD $16.95

| CAN $24.95

Pub Date: 9/5/2023
Active | In stock




SPECTOR BOOKS

ISBN: 9783959056977
USD $50.00

| CAN $72.5

Pub Date: 1/9/2024
Forthcoming