BOOK FORMAT
Paperback, 6.5 x 8.5 in. / 112 pgs.
PUBLISHING STATUS
Pub Date 11/1/2008
Active
DISTRIBUTION
D.A.P. Exclusive
Catalog: FALL 2008 p. 53
PRODUCT DETAILS
ISBN 9782914563413 TRADE
List Price: $25.00 CDN $34.50
AVAILABILITY
In stock
TERRITORY
NA LA ASIA AU/NZ AFR ME
THE FALL 2023 ARTBOOK | D.A.P. CATALOG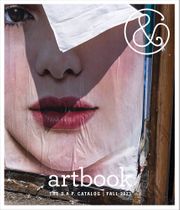 Preview our Fall 2023 catalog, featuring more than 500 new books on art, photography, design, architecture, film, music and visual culture.
&nbsp
&nbsp
In Pursuit of Treasure Island

By Raul Ruiz




An epic follow-up to Stevenson's classic novel

Behind each children's book, behind each bestseller, a sacred text is hidden. Stevenson's novel has been scrutinized, read and re-read a thousand times. It has been used as a model for a map that leads us in search of an island where a cave that represented the sky was located. And in that sky, the stars and planets were represented by diamonds, real diamonds... Both a prelude and a continuation to Raoul Ruiz's film, Treasure Island, made in 1984, In Pursuit of Treasure Island presents itself as the follow-up, or rather a pursuit, of Stevenson's novel. It is a formidable example of the way Ruiz parodies the text and plunges the story inside the story before losing the reader in a labyrinth of strange images.


Free Shipping

UPS GROUND IN THE CONTINENTAL U.S.
FOR CONSUMER ONLINE ORDERS

DIS VOIR

ISBN: 9782906571389
USD $25.50

| CAN $35

Pub Date: 3/2/1995
Active | In stock




DIS VOIR

ISBN: 9782914563253
USD $25.00

| CAN $34.5

Pub Date: 2/1/2007
Active | In stock




DELMONICO BOOKS/ACADEMY MUSEUM OF MOTION PICTURES

ISBN: 9781636810607
USD $39.95

| CAN $57.95

UK &pound 35

Pub Date: 11/28/2023
Active | In stock




DAMIANI

ISBN: 9788862088046
USD $59.95

| CAN $85.95

Pub Date: 10/17/2023
Active | In stock




BLACKSTAR PROJECTS/INSTITUTE OF CONTEMPORARY ART, UNIVERSITY OF PENNSYLVANIA

ISBN: 9780884541578
USD $60.00

| CAN $87

UK &pound 54

Pub Date: 10/3/2023
Active | Out of stock




MOUSSE PUBLISHING

ISBN: 9788867495603
USD $60.00

| CAN $84

Pub Date: 4/4/2023
Active | Out of stock




MOUSSE PUBLISHING

ISBN: 9788867495245
USD $40.00

| CAN $55

Pub Date: 1/24/2023
Active | In stock




PRIMARY INFORMATION

ISBN: 9781737797968
USD $20.00

| CAN $28

Pub Date: 5/16/2023
Active | In stock




STEIDL/SCOTIABANK PHOTOGRAPHY AWARD

ISBN: 9783969990735
USD $65.00

| CAN $91

Pub Date: 1/10/2023
Active | In stock




SPECTOR BOOKS

ISBN: 9783959056113
USD $45.00

| CAN $63

Pub Date: 5/30/2023
Active | In stock




SKIRA PARIS

ISBN: 9782370741929
USD $35.00

| CAN $49

Pub Date: 1/9/2024
Forthcoming




LA FáBRICA

ISBN: 9788418934452
USD $35.00

| CAN $49

UK &pound 30

Pub Date: 7/11/2023
Active | In stock




DELMONICO BOOKS/ACADEMY MUSEUM OF MOTION PICTURES

ISBN: 9781636810195
USD $75.00

| CAN $102

UK &pound 60

Pub Date: 6/20/2023
Active | Out of stock




DIS VOIR

ISBN: 9782381620046
USD $24.95

| CAN $33.95

Pub Date: 3/1/2022
Active | In stock