BOOK FORMAT
Paperback, 4.5 x 7 in. / 128 pgs / 1 color / 2 bw.
PUBLISHING STATUS
Pub Date 11/27/2018
Out of print
DISTRIBUTION
D.A.P. Exclusive
Catalog: FALL 2018 p. 98
PRODUCT DETAILS
ISBN 9781939663399 TRADE
List Price: $14.95 CDN $21.00 GBP £12.99
AVAILABILITY
Not available
THE FALL 2023 ARTBOOK | D.A.P. CATALOG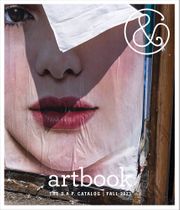 Preview our Fall 2023 catalog, featuring more than 500 new books on art, photography, design, architecture, film, music and visual culture.
&nbsp
&nbsp
Letters, Dreams, and Other Writings

By Remedios Varo. Introduction and translation by Margaret Carson.


The first collection of the beloved Mexican surrealist's stories, letters, dreams, and other writings

While the reputation of Remedios Varo (1908–63) the surrealist painter is now well established, Remedios Varo the writer has yet to be fully discovered. Her writings, which were never published during her life let alone translated into English, present something of a missing chapter and offer the same qualities to be found in her visual work: an engagement with mysticism and magic, a breakdown of the border between the everyday and the marvelous, a love of mischief and an ongoing meditation on the need for (and the trauma of) escape in all its forms.

This volume brings together the painter's collected writings and includes an unpublished interview, letters to friends and acquaintances (as well as to people unknown), dream accounts, notes for unrealized projects, a project for a theater piece, whimsical recipes for controlled dreaming, exercises in surrealist automatic writing and prose poem commentaries on her paintings. It also includes her longest manuscript, the pseudoscientific, De Homo Rodans, an absurdist study of the wheeled predecessor to Homo sapiens (the skeleton of which Varo had built out of chicken bones). Ostensibly written by the invented anthropologist Hälikcio von Fuhrängschmidt, Varo's text utilizes eccentric Latin and a tongue-in-cheek pompous discourse to explain the origins of the first umbrella and in what ways Myths are merely corrupted Myrtles.




PRAISE AND REVIEWS

Alexander Adams Art Blog

This enjoyable collection will spur some readers to investigate Varo's art and it gives us a glimpse of Varo's character and the frames of reference for her as a creator.

Review 31

Elisa Taber

Varo's texts are mythical and surrealist, ranging from a pseudo-scientific monograph claiming human beings evolved from rats to a recipe for a brew that induces erotic dreams, following a narrative thread weaving dreams and reality together to grant meaning to the inexplicable.

Hyperallergic

Miha Buna

Humorous and experimental, Letters, Dreams & Other Writings is a book that seems to enjoy itself just as Varo must have enjoyed herself while writing the texts...

Brooklyn Rail

Zack Hatfield

Ideally, Letters will bolster scholarship around Varo's output and acquaint readers with her paintings, which seem to be slowly gaining recognition in the U.S. But their simplest rewards reside in the dozens of images Varo evokes: a stone wrapped in blond hair; a butterfly asleep on a silk shirt; a woman buried in honey; an enormous, self-enclosing egg woven with ribbons; a volcano sprouting up in a friend's courtyard; and Varo herself, like one of the women in her paintings: making miracles out of whatever was around her.