BOOK FORMAT
Paperback, 9.13 x 10.63 in. / 128 pgs / 40 color.
PUBLISHING STATUS
Pub Date 5/1/2012
Out of stock indefinitely
DISTRIBUTION
D.A.P. Exclusive
Catalog: Publisher Backlist
PRODUCT DETAILS
ISBN 9781905464586 TRADE
List Price: $35.00 CDN $45.00
AVAILABILITY
Not available
TERRITORY
NA ONLY
THE FALL 2023 ARTBOOK | D.A.P. CATALOG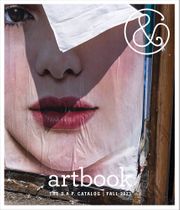 Preview our Fall 2023 catalog, featuring more than 500 new books on art, photography, design, architecture, film, music and visual culture.
&nbsp
&nbsp
Bridget Riley: Works, 1960-1966




Filled with iconic black and white paintings, studies and prints that mesmerise and challenge the viewer, Bridget Riley: Works 1960–1966 represents the foundation of the artist's exploration of shape, movement and perception.Accompanying a two-part exhibition of the same name at Karsten Schubert, London, and Hazlitt Holland-Hibbert, London, this volume features over 40 works from the beginning of Riley's impressive career.Full-colour illustrations are presented alongside a selection of essays, including an interview with David Sylvester from 1967 that discusses the distinctive, optically vibrant works that Riley was making during this important period, and a conversation with Maurice de Sausmarez.




STATUS: Out of stock indefinitely.

HOLZWARTH PUBLICATIONS

ISBN: 9783947127252
USD $50.00

| CAN $70

Pub Date: 11/2/2021
Active | In stock




THE BRIDGET RILEY ART FOUNDATION

ISBN: 9781999853914
USD $32.50

| CAN $45

Pub Date: 10/22/2019
Active | Out of stock




THE BRIDGET RILEY ART FOUNDATION

ISBN: 9781999853921
USD $25.00

| CAN $34.95

Pub Date: 10/22/2019
Active | Out of stock




HOLZWARTH PUBLICATIONS

ISBN: 9783947127061
USD $50.00

| CAN $69.95

Pub Date: 10/23/2018
Active | In stock




HOLZWARTH PUBLICATIONS

ISBN: 9783935567817
USD $50.00

| CAN $67.5

Pub Date: 8/23/2016
Active | In stock




RIDINGHOUSE

ISBN: 9781905464159
USD $85.00

| CAN $115

Pub Date: 7/1/2008
Active | Out of stock




RIDINGHOUSE

ISBN: 9781909932296
USD $39.95

| CAN $55

Pub Date: 4/1/2017
Active | Out of stock




RIDINGHOUSE

ISBN: 9781909932265
USD $32.00

| CAN $45

Pub Date: 10/1/2016
Active | Out of stock




RIDINGHOUSE

ISBN: 9781909932203
USD $25.00

| CAN $34.95

Pub Date: 7/1/2016
Active | In stock




RIDINGHOUSE

ISBN: 9781909932128
USD $32.00

| CAN $45

Pub Date: 6/1/2015
Active | In stock




RIDINGHOUSE

ISBN: 9781909932043
USD $25.00

| CAN $34.95

Pub Date: 3/1/2015
Active | In stock




RIDINGHOUSE

ISBN: 9781905464906
USD $19.95

| CAN $29.95

Pub Date: 3/1/2014
Active | In stock




RIDINGHOUSE

ISBN: 9781905464760
USD $49.95

| CAN $67.5

Pub Date: 9/1/2013
Active | In stock




RIDINGHOUSE

ISBN: 9781905464487
USD $29.95

| CAN $45

Pub Date: 12/1/2011
Active | In stock




RIDINGHOUSE

ISBN: 9781905464425
USD $49.95

| CAN $67.5

Pub Date: 3/15/2011
Active | In stock




RIDINGHOUSE

ISBN: 9781905464227
USD $39.95

| CAN $55

Pub Date: 1/31/2010
Active | Out of stock