BOOK FORMAT
Hardcover, 8.75 x 12 in. / 384 pgs / 250 color.
PUBLISHING STATUS
Pub Date 11/15/2022
Active
DISTRIBUTION
D.A.P. Exclusive
Catalog: FALL 2022 p. 115
PRODUCT DETAILS
ISBN 9781636810553 TRADE
List Price: $55.00 CDN $76.00 GBP £46.00
AVAILABILITY
In stock
EXHIBITION SCHEDULE
Hanover, NH
Hood Museum of Art, Dartmouth College, 09/03/22–12/04/22

Washington, D.C.
American University Museum, American University, 04/04/23–07/09/23

Los Angeles, CA
Fowler Museum, University of California, Los Angeles, 08/20/23–01/14/24

Charlottesville, VA
The Fralin Museum of Art, University of Virginia, 02/22/24–07/21/24

New York, NY
Asia Society Museum, 09/24/24–01/05/25
DOWNLOAD THE SPRING 2023 CATALOG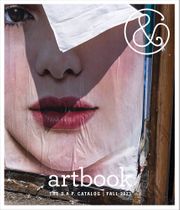 Preview our Spring 2023 catalog, featuring more than 500 new books on art, photography, design, architecture, film, music and visual culture.
&nbsp
&nbsp
Madayin: Eight Decades of Aboriginal Australian Bark Painting from Yirrkala

Edited by Wukun Wanambi, Kade McDonald, Henry Skerritt.


A revelatory compendium of eucalyptus bark painting, rarely seen by Western audiences

This volume chronicles the rise of a globally significant art movement, as told from the perspective of the Yolngu people of northeastern Australia. It presents more than 90 iconic paintings on eucalyptus bark, many of which have never been seen outside of Australia.
For millennia, Yolngu people around Yirrkala in northern Australia have painted their sacred clan designs on their bodies and ceremonial objects. These designs—called miny'tji—are not merely decorative: they are the sacred patterns of the ancestral land itself. Yolngu people describe them as madayin: a term that encompasses both the sacred and the beautiful. With the arrival of Europeans in the 20th century, Yolngu people turned to the medium of painting on eucalyptus bark with ochres. The result was an outpouring of creativity that continues to this day as artists find new and innovative ways to transform their ancient clan designs into compelling contemporary statements that are chronicled in this singular publication.
Authors include: Andrew Blake, David Burrumarra MBE, Steve Fox, Gunybi Ganambarr, Manydjarri Ganambarr, Yinimala Gumana, Jason Guwanbal Gurruwiwi, Djambawa Marawili AM, Nonggirrnga Marawili, Dhuwarrwarr Marika, Wanyubi Marika, Baluka Maymuru, Paul Wutjin Maymuru, Naminapu Maymuru-White, Frances Morphy, Howard Morphy, Barayuwa Mununggurr, Marrnyula Mununggurr, Rerrkirrwanga Mununggurr, Wäka Mununggurr, Buwathay Munyarryun, Eleanore Neumann, Will Stubbs, Dhukumul Wanambi, Dhukal Wirrpanda, Liyawaday Wirrpanda, Dela Yunupingu, Djerrkngu Yunupingu and Yälpi Yunupingu.




PRAISE AND REVIEWS

Wall Street Journal

Judith H. Dobrzynski

It's hard to imagine more captivating works.

Free Shipping

UPS GROUND IN THE CONTINENTAL U.S.
FOR CONSUMER ONLINE ORDERS

MOUSSE PUBLISHING

ISBN: 9788867493418
USD $33.00

| CAN $45

Pub Date: 2/19/2019
Active | In stock




SILVANA EDITORIALE

ISBN: 9788836652945
USD $45.00

| CAN $63

Pub Date: 5/30/2023
Active | Out of stock




THE MUSEUM OF MODERN ART, NEW YORK

ISBN: 9781633451230
USD $45.00

| CAN $63

Pub Date: 4/18/2023
Active | In stock




LOUISIANA MUSEUM OF MODERN ART

ISBN: 9788793659599
USD $35.00

| CAN $49

UK &pound 30

Pub Date: 3/28/2023
Active | In stock




WALTHER KöNIG, KöLN

ISBN: 9783753302621
USD $45.00

| CAN $62

Pub Date: 1/10/2023
Active | In stock




WALTHER KöNIG, KöLN

ISBN: 9783753302645
USD $49.95

| CAN $69.95

Pub Date: 1/10/2023
Active | Out of stock




FULGUR PRESS

ISBN: 9781399936484
USD $49.95

| CAN $69.95

Pub Date: 6/13/2023
Active | In stock




WHITECHAPEL GALLERY

ISBN: 9780854883004
USD $45.00

| CAN $63

Pub Date: 8/30/2022
Active | In stock




NAI010 PUBLISHERS

ISBN: 9789462086968
USD $49.95

| CAN $68.95

Pub Date: 6/21/2022
Active | In stock




SKIRA

ISBN: 9788857247687
USD $65.00

| CAN $89

Pub Date: 11/8/2022
Active | In stock




SILVANA EDITORIALE

ISBN: 9788836650361
USD $50.00

| CAN $69

Pub Date: 11/15/2022
Active | In stock




ROYAL ACADEMY OF ARTS

ISBN: 9781912520909
USD $40.00

| CAN $56

Pub Date: 1/10/2023
Active | In stock