BOOK FORMAT
Hardcover, 9 x 12 in. / 264 pgs / 170 color.
PUBLISHING STATUS
Pub Date 3/31/2012
Out of print
DISTRIBUTION
D.A.P. Exclusive
Catalog: SPRING 2012 p. 4
PRODUCT DETAILS
ISBN 9780892074242 TRADE
List Price: $55.00 CDN $65.00
AVAILABILITY
Not available
EXHIBITION SCHEDULE
San Francisco, CA
San Francisco Museum of Modern Art, 02/18/12-05/20/12

New York
Guggenheim Museum, 06/29/12-10/03/12
DOWNLOAD THE SPRING 2023 CATALOG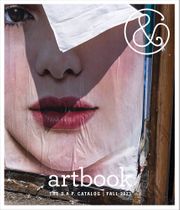 Preview our Spring 2023 catalog, featuring more than 500 new books on art, photography, design, architecture, film, music and visual culture.
&nbsp
&nbsp
Rineke Dijkstra: A Retrospective

Text by Jennifer Blessing, Sandra S. Phillips. Interview by Jan van Adrichem.


This volume is the first comprehensive monograph on Rineke Dijkstra to be published in the United States. The catalogue accompanies the first U.S. mid-career survey of this important Dutch artist's work in photography and video; it features the Beach Portraits and other early works such as the photographs of new mothers and bullfighters, together with selections from Dijkstra's later work including her most recent video installations. Also included are series that she has been working on continuously for years, such as Almerisa (1994–present), which documents a young immigrant girl as she grows up and adapts to her new environment. The catalogue features essays by exhibition curators Jennifer Blessing (Senior Curator of Photography at the Guggenheim) and Sandra S. Phillips (Senior Curator of Photography at the San Francisco Museum of Modern Art); an interview with the artist by Jan van Adrichem; interviews with the artist's subjects by Sophie Derkzer; short texts on the artist's series by Chelsea Spengemann; and the most comprehensive exhibition history and bibliography to date.
Rineke Dijkstra came to prominence in the 1990s with her celebrated Beach Portraits, large-scale color photographs of children on the verge of adolescence posed on beaches around the world, from South Carolina to the Ukraine. From that point on, her sensitive and visually riveting portraits have documented individuals caught in transitional states, sometimes due to physical exertion, for example after giving birth or dancing, or charted over time through series. Along with other Western European photographers such as Thomas Struth and Thomas Ruff, Dijkstra has been a leading innovator in the production of large-scale color images, which came to define contemporary photography in the 1990s and have transformed it ever since.


Featured image, "Odessa, Ukraine, August 4, 1993," from Rineke Dijkstra's 1992-2002 Beach Portraits series, is reproduced from Rineke Dijkstra: A Retrospective.

PRAISE AND REVIEWS

Photo District News

Jennifer Blessing

The book and exhibition emphasize photography's role as a tool for empathy and understanding.

The New York Times

Hilarie Sheets

Ms. Dijkstra, 52, whose 4-by-5-inch field camera requires slow, laborious work with plates, doesn't like to talk much during a shoot. She tries to create room for something genuine to happen.
When you take a photograph, she said, "you look in a more objective way," but there is also a connection between photographer and subject. "It's recognition, as Diane Arbus said.
"I'm not just an observer," she added. "We have to respond to each other. It's a kind of tension which I like."

Elle Magazine

Julie L. Belcove

Dijkstra has remained somewhat under the radar in the U.S., but her first major American retrospective is now on view at the San Francisco Museum of Modern Art and wll travel to New York's Guggenheim in June. "She's not a flashy person, and her work is subtle, not obvious," says Sandra S. Phillips, SFMOMA's senior curator of photography, "but I think profound."

W Magazine

Fan Zhong

The Dutch photographer Rineke Dijkstra, whose images have appeared in W, makes naturalistic portraits and videos of those whose lives are in transition: young adults, soldiers, new mothers. The subject of a major retrospective at New York's Guggenheim Museum, Dijkstra uses a 4x5 field camera, in part, she says, because its slow, cumbersome operation creates "a space where things can happen. The people I shoot really have to open themselves up to me. And I have to open up, too. It's an interaction."

American Photo

Dijkstra captures young subjects going through transitional times, reflecting the vulnerability of lost innocence.