BOOK FORMAT
DVD video, NTSC, 5.5 x 7.5 in.
PUBLISHING STATUS
Pub Date 3/1/2007
Out of stock indefinitely
DISTRIBUTION
D.A.P. Exclusive
Catalog: SPRING 2007 p. 46
PRODUCT DETAILS
ISBN 9783905770131 TRADE
List Price: $45.00 CDN $60.00
AVAILABILITY
Not available
TERRITORY
NA LA ASIA AU/NZ AFR ME
THE FALL 2023 ARTBOOK | D.A.P. CATALOG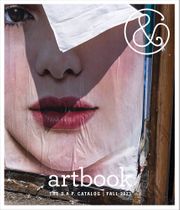 Preview our Fall 2023 catalog, featuring more than 500 new books on art, photography, design, architecture, film, music and visual culture.
&nbsp
&nbsp
Bless: Celebrating 10 years of Themelessness

10 Years of Experimental Fashion, Video Compilation

Edited by Nicolas Trembley.


This 90-minute DVD features 10 years worth of video documentation of the experimental fashion and object designs by the avant-garde collaborators Bless. Heralded as one of fashion's most innovative teams, the Paris- and Berlin-based duo of Desiree Heiss and Ines Kaag refuses to capitalize on one milieu. Constantly investigating the boundaries of style, Bless slips between fashion, beauty, interior design, art and advertising, often collaborating with other brands--like Nike and Adidas to name just a couple. Their work, which straddles the line between object and design, high function and high fashion, is always unique and marked by the recycling and adaptation of unexpected items put to use in totally new ways. The films collected here include a fashion show/dinner party; a show where models walked on an intentionally wobbly stage; a collection laid out as a still life; and 12 others.


STATUS: Out of stock indefinitely.

STEIDL

ISBN: 9783969992111
USD $175.00

| CAN $255

Pub Date: 11/3/2023
Forthcoming




SILVANA EDITORIALE/QATAR MUSEUMS

ISBN: 9788836654499
USD $85.00

| CAN $123

Pub Date: 11/7/2023
Forthcoming




SILVANA EDITORIALE

ISBN: 9788836653768
USD $45.00

| CAN $65

Pub Date: 10/31/2023
Forthcoming




BAGGU CORPORATION

ISBN: 9798218017798
USD $65.00

| CAN $90

UK &pound 57

Pub Date: 12/6/2022
Active | In stock




MOUSSE PUBLISHING

ISBN: 9788867496181
USD $55.00

| CAN $77

Pub Date: 4/4/2023
Active | In stock




LARS MüLLER PUBLISHERS

ISBN: 9783037787076
USD $88.00

| CAN $123

Pub Date: 12/6/2022
Active | In stock




NAI010 PUBLISHERS

ISBN: 9789462087170
USD $45.00

| CAN $63

Pub Date: 6/21/2022
Active | In stock




LARS MüLLER PUBLISHERS

ISBN: 9783037787007
USD $50.00

| CAN $69

Pub Date: 1/24/2023
Active | In stock




DELMONICO BOOKS/MUSEUM OF CONTEMPORARY ART CHICAGO

ISBN: 9781636810744
USD $79.95

| CAN $104.95

UK &pound 67.99

Pub Date: 8/9/2022
Active | In stock




SILVANA EDITORIALE

ISBN: 9788836650354
USD $55.00

| CAN $76

Pub Date: 6/7/2022
Active | In stock




DELMONICO BOOKS/LOS ANGELES COUNTY MUSEUM OF ART

ISBN: 9781636810188
USD $49.95

| CAN $67.95

UK &pound 39.99

Pub Date: 5/10/2022
Active | In stock




EDITION PATRICK FREY

ISBN: 9783907236239
USD $70.00

| CAN $101.5

Pub Date: 11/21/2023
Forthcoming