BOOK FORMAT
Hardcover, 4.75 x 6.25 in., 86 pgs, illustrated throughout.
PUBLISHING STATUS
Pub Date 11/2/2002
Out of print
DISTRIBUTION
D.A.P. Exclusive
Catalog: SPRING 2003
PRODUCT DETAILS
ISBN 9781891024559 TRADE
List Price: $12.95 CDN $15.00
AVAILABILITY
Not available
THE FALL 2023 ARTBOOK | D.A.P. CATALOG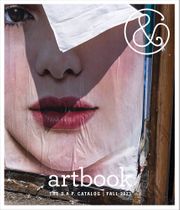 Preview our Fall 2023 catalog, featuring more than 500 new books on art, photography, design, architecture, film, music and visual culture.
&nbsp
&nbsp
Gerhard Richter: Sils




Whenever Gerhard Richter goes to Sils, a small town in the Swiss Alps, he makes photographs, some of which he overpaints and adds to his Atlas. Others he treats as autonomous works, as in those presented in this intimate artist's book. In the overpainted photographs, the levels of reality evident in photography are combined with those that exist in painting. However, the paired concepts prove redundant of both the realism in photographic representation and the abstraction in nonfigurative painting. The photographs reveal a parallel between both forms of painterly practice, evidence of the simultaneous existence of contradictory bodies of work in Richter's oeuvre.


HATJE CANTZ

ISBN: 9783775755443
USD $375.00

| CAN $550

Pub Date: 4/2/2024
Forthcoming




HENI PUBLISHING

ISBN: 9781912122592
USD $35.00

| CAN $49

Pub Date: 7/25/2023
Forthcoming




WALTHER KöNIG, KöLN

ISBN: 9783753301884
USD $45.00

| CAN $63

Pub Date: 9/13/2022
Active | Out of stock




HATJE CANTZ

ISBN: 9783775737142
USD $375.00

| CAN $512

Pub Date: 5/3/2022
Active | In stock




HENI PUBLISHING

ISBN: 9781912122486
USD $55.00

| CAN $75

Pub Date: 11/16/2021
Active | In stock




HATJE CANTZ

ISBN: 9783775747134
USD $50.00

| CAN $70

Pub Date: 12/1/2020
Active | In stock




WALTHER KöNIG, KöLN

ISBN: 9783960986539
USD $19.95

| CAN $27.95

Pub Date: 4/14/2020
Active | In stock




HATJE CANTZ

ISBN: 9783775732307
USD $375.00

| CAN $515

Pub Date: 6/16/2020
Active | In stock




WALTHER KöNIG, KöLN

ISBN: 9783960983880
USD $55.00

| CAN $72.5

Pub Date: 11/20/2018
Active | In stock




VERLAG DER BUCHHANDLUNG WALTHER KöNIG

ISBN: 9783960980940
USD $35.00

| CAN $47.5

Pub Date: 7/25/2017
Active | Out of stock




HATJE CANTZ

ISBN: 9783775719797
USD $375.00

| CAN $500

Pub Date: 7/25/2017
Active | In stock




DOMINIQUE LéVY

ISBN: 9781944379018
USD $60.00

| CAN $79

UK &pound 53

Pub Date: 7/26/2016
Active | In stock




WALTHER KöNIG, KöLN

ISBN: 9783863357757
USD $65.00

| CAN $87

Pub Date: 2/23/2016
Active | In stock




WALTHER KöNIG, KöLN

ISBN: 9783863355203
USD $1,500.00

| CAN $1985

Pub Date: 12/29/2015
Active | In stock




D.A.P./TATE

ISBN: 9781938922923
USD $75.00

| CAN $99

Pub Date: 5/24/2016
Active | In stock




HATJE CANTZ

ISBN: 9783775719810
USD $375.00

| CAN $500

Pub Date: 9/29/2015
Active | In stock