PUBLISHER


San Francisco Museum of Modern Art

BOOK FORMAT
Paperback, 7 x 10 in. / 72 pgs / 250 color.

PUBLISHING STATUS
Pub Date 3/15/2005
Out of print

DISTRIBUTION
D.A.P. Exclusive
Catalog: SPRING 2005 p. 104

PRODUCT DETAILS
ISBN 9780918471772 TRADE
List Price: $18.95 CDN $25.00

AVAILABILITY
Not available
TERRITORY
*not available
THE FALL 2023 ARTBOOK | D.A.P. CATALOG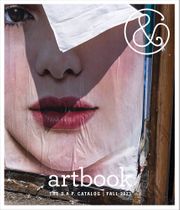 Preview our Fall 2023 catalog, featuring more than 500 new books on art, photography, design, architecture, film, music and visual culture.
&nbsp
&nbsp
SAN FRANCISCO MUSEUM OF MODERN ART

Jeremy Blake: Winchester

Essays by Benjamin Weil and Mitchell Schwarzer.


Published on the occasion of the U.S. premiere of Jeremy Blake's new Winchester trilogy, this lush and strikingly designed catalogue presents three of the artist's short films: Winchester, 1906 and Century 21--inspired by the Winchester Mystery House in San Jose, California. The Winchester mansion was built over the course of nearly 20 years by Sarah Winchester, heir to the Winchester Rifles fortune, who, after the deaths of her daughter and husband, became fascinated with spiritualism and convinced that she was cursed by the ghosts of people killed by Winchester firearms. According to her spiritual advisors, the noise of ongoing construction would help ward off evil ghosts, so she began building what would become a 160-room Victorian, full of bizarre architectural features, which was still unfinished when she died in 1922. Winchester presents a turning point in Blake's work, as the films include not only his well-known digital compositions, but also ink drawings and recognizable footage of the Winchester mansion and its environs. Overlaid, juxtaposed and morphing in and out of one another, these elements combine in an intensely expressionistic and non-narrative manner, evoking Winchester's trouble mind as she tried to rebuild her home. The films call into question traditional cinematic modes of storytelling: cultural mythologies surrounding guns; violence and the American West; and the relationship between physical and simulated reality in the digital age.