Maya Rochat
Museum Exhibition Catalogues, Monographs, Artist's Projects, Curatorial Writings and Essays
MONOGRAPHS & CATALOGS
Maya Rochat: Crystal Clear
EDITION PATRICK FREY
Pbk, 9 x 12 in. / 128 pgs / 80 color. | 5/20/2014 | Out of stock
$35.00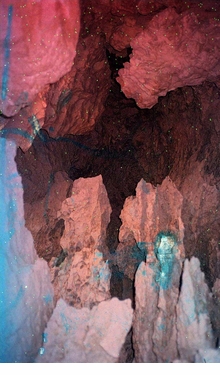 Maya Rochat: A Rock Is a River
SPBH EDITIONS
Hbk, 8.75 x 11.5 in. / 336 pgs / 125 color / 65 bw. | 6/12/2018 | Not available
$63.00
Published by SPBH Editions.
Text by Simon Baker, Paola Paleari, Ingrid Luquet-Gad, JoŽl Vacheron, Aris Xanthos, Viviane Morey, Ann-Christin Bertrand, Brad Feuerhelm.
Binding the alchemy of photography with the physicality of painting, Swiss artist Maya Rochat (born 1985) creates organic patterns, chromatic alterations and visual ruptures. Here, drawing on works from the past two years, she revisits and interweaves images in various scales and rhythms to create an unfolding collage in book form.
BOOK FORMAT
Hardcover, 8.75 x 11.5 in. / 336 pgs / 125 color / 65 bw.
PUBLISHING STATUS
Pub Date 6/12/2018
Out of stock indefinitely
DISTRIBUTION
D.A.P. Exclusive
Catalog: FALL 2018 p. 204
PRODUCT DETAILS
ISBN 9781999814403 SDNR40
List Price: $63.00 CDN $85.00
AVAILABILITY
Not available
STATUS: Out of stock indefinitely.
Published by Edition Patrick Frey.

The symbolically laden, analog and digital works of the young Swiss artist Maya Rochat probe the depths of the photographic plane. Using her own writing and fragments of found images, she modifies her photographs to create radically associative compositions. She sources her own immediate surroundings, weaving portraits of friends and shots of landscapes into a dense, intimate visual fabric that is scratched, dissected, and reassembled with almost militant surgical intervention. The bitter, beautiful universe that surfaces in Crystal Clear patently eludes conventional codes of interpretation, relentlessly undermining the usual visual cliches and notions of beauty propagated by the media.
BOOK FORMAT
Paperback, 9 x 12 in. / 128 pgs / 80 color.
PUBLISHING STATUS
Pub Date 5/20/2014
Active
DISTRIBUTION
D.A.P. Exclusive
Catalog: Publisher Backlist
PRODUCT DETAILS
ISBN 9783905929560 TRADE
List Price: $35.00 CDN $45.00
AVAILABILITY
Out of stock
STATUS: Out of stock
Temporarily out of stock pending additional inventory.