Matthew Brandt
Museum Exhibition Catalogues, Monographs, Artist's Projects, Curatorial Writings and Essays
MONOGRAPHS & CATALOGS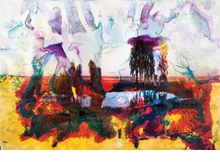 Matthew Brandt: Lakes and Reservoirs
DAMIANI/YOSSI MILO
Hbk, 13.75 x 11 in. / 176 pgs / illustrated throughout. | 10/31/2014 | Not available
$65.00
Published by Damiani/Yossi Milo.

Matthew Brandt creates his work using physical elements from the depicted subject. Inspired by landscape photography of the American West and alternative photograph processes developed during photography's infancy in the mid-nineteenth century, the artist revives traditional photographic techniques through various production processes. Whether soaking prints in water from the depicted lake, printing on paper made from the subject tree or even using a pigment created from the subject, Brandt blurs the line between the photograph and the photographed. For his series Lakes and Reservoirs, Brandt photographs lakes and reservoirs in the western United States, and then submerges each resulting C-Print in water collected from the subject of the photograph. Prints are soaked for days or weeks or even months, and this process impacts the layers of color that comprise the image. Brandt removes the print once it reaches its desired look, which can range from mostly representational to completely abstract. The Lakes and Reservoirs series considers the current condition not only of our lakes and reservoirs, but also of traditional color photography.

In December 2011, Forbes named Matthew Brandt (born 1982) one of tomorrow's "brightest stars," in the article "30 Under 30: Art & Design." Brandt's work is included in the collections of The Metropolitan Museum of Art, New York; J. Paul Getty Museum, Los Angeles; National Gallery of Art, Washington, D.C.; Brooklyn Museum, New York; Cincinnati Art Museum; Los Angeles County Museum of Art; Hammer Museum, Los Angeles; Royal Danish Library, National Museum of Photography, Copenhagen; and the Columbus Museum of Art, among others. Brandt was born in California and received his BFA from Cooper Union and his MFA from UCLA. The artist currently lives and works in Los Angeles.


BOOK FORMAT
Hardcover, 13.75 x 11 in. / 176 pgs / illustrated throughout.
PUBLISHING STATUS
Pub Date 10/31/2014
Out of print
DISTRIBUTION
D.A.P. Exclusive
Catalog: FALL 2014 p. 40
PRODUCT DETAILS
ISBN 9788862083744 TRADE
List Price: $65.00 CDN $87.00
AVAILABILITY
Not available