Bernardo Bertolucci
Museum Exhibition Catalogues, Monographs, Artist's Projects, Curatorial Writings and Essays
"Bernardo Bertolucci's road has always seemed to us one of those journeys in which the further you go, the closer you get to the roots; it is the estranging effect that distance confers on reality, virtually a leap filled with wonder, that allows us to grasp its lost details."
Stefano Caselli, excerpted from Bertolucci Images.
MONOGRAPHS & CATALOGS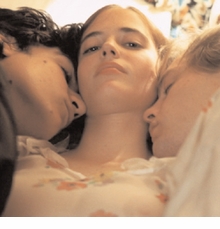 Bertolucci Images
SILVANA EDITORIALE
Pbk, 9 x 9 in. / 168 pgs / 60 color / 90 bw. | 10/31/2011 | Not available
$45.00
Published by Silvana Editoriale.
Edited by Marcello Garofalo.
Bernardo Bertolucci (born 1940) is Italy's most famous living film director, an heir to the country's tradition of cinema auteurs. His films, which include such modern classics as The Conformist (1970), Last Tango in Paris (1972), The Last Emperor (1987), The Sheltering Sky (1990), Stealing Beauty (1996) and The Dreamers (2003), offer a wild blend of leftist politics, history, literature, psychoanalysis and sexuality. Beginning with Bertolucci's debut film The Grim Reaper (1962), Bertolucci Images traces the evolution of the director's sensual and philosophical brand of cinema, including stills from all of the films for which he has become justly famed. The book includes on-set photographs of some of modern cinema's finest actors, such as Marlon Brando, Robert De Niro, Gérard Depardieu, Donald Sutherland, Peter O'Toole, Debra Winger, John Malkovich and others. The first thorough photographic overview of his career, Bertolucci Images is packed with images from the director's 40 years of making some of today's most critically acclaimed films.


PUBLISHER
BOOK FORMAT
Paperback, 9 x 9 in. / 168 pgs / 60 color / 90 bw.
PUBLISHING STATUS
Pub Date 10/31/2011
Out of print
DISTRIBUTION
D.A.P. Exclusive
Catalog: FALL 2011 p. 54
PRODUCT DETAILS
ISBN 9788836618965 TRADE
List Price: $45.00 CDN $55.00
AVAILABILITY
Not available