Marsden Hartley
Museum Exhibition Catalogues, Monographs, Artist's Projects, Curatorial Writings and Essays
MONOGRAPHS & CATALOGS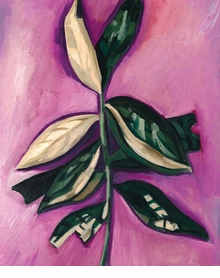 Marsden Hartley: The Earth Is All I Know of Wonder
LOUISIANA MUSEUM OF MODERN ART
A concise survey of Marsden Hartley's daring innovations in American painting, with reflections on his work by contemporary artists
Hbk, 8.5 x 10.25 in. / 144 pgs / 140 color / 20 duotone / 20 bw. | 1/21/2020 | Out of stock
$35.00
Marsden Hartley: The German Paintings 1913–1915
D.A.P./LACMA
Pbk, 7.5 x 11 in. / 208 pgs / 114 color / 52 bw. | 10/31/2014 | Not available
$48.00
Published by Louisiana Museum of Modern Art.
Edited by Lærke Rydal Jørgensen, Mathias Ussing Seeberg. Foreword by Poul Erik Tøjner. Text by Mathias Ussing Seeberg, Randall R. Griffey, Jonathan D. Katz, Edyta Frelik, et al.
A defining protagonist in American modernism, the painter and writer Marsden Hartley (1877–1943) was known for the vivid, sharply contrasted colors and abstract geometry in his modernist depictions of mountainous landscapes and abstracted portraits featuring German military imagery.

Though he moved several times across the United States and briefly lived abroad in Europe, attending Gertrude Stein's salons and drawing inspiration from the German Expressionists, Hartley always maintained a special appreciation for the natural world and eventually returned to his childhood home of Maine to paint local New England scenes. Along with a selection of Hartley's paintings, this book provides several reflections on the lasting influence of Hartley's work written by world-renowned contemporary painters, including David Hockney, Dana Schutz, Shara Hughes, David Salle and Alex Katz.
BOOK FORMAT
Hardcover, 8.5 x 10.25 in. / 144 pgs / 140 color / 20 duotone / 20 bw.
PUBLISHING STATUS
Pub Date 1/21/2020
Active
DISTRIBUTION
D.A.P. Exclusive
Catalog: SPRING 2020 p. 146
PRODUCT DETAILS
ISBN 9788793659230 TRADE
List Price: $35.00 CDN $39.95 GBP £30.00
AVAILABILITY
Out of stock
STATUS: Out of stock
Temporarily out of stock pending additional inventory.
Published by D.A.P./LACMA.
Edited by Dieter Scholz. Foreword by Udo Kittelmann. Text by Ilene Susan Fort, Thomas W. Gaehtgens, Kaitlyn Hogue Mellini, Alexia Pooth, Bruce Robertson, Thomas Weissbrich, Cornelia Wieg.
This volume takes a close look at the most popular and influential period of the great American modernist painter Marsden Hartley—his Berlin years, during which he produced his pioneering "German Officer" portraits and a series of works that occupy a unique zone between abstraction and figuration. During a brief stint in Paris, Hartley met and fell in love with a Prussian officer, and early in 1913 he followed the officer to Berlin. When war broke out the officer was called up, and was killed in action in October 1914. Mourning his loss, Hartley created an astounding series of paintings that abstracted components of the officer's uniform, retaining their military symbolism and patterns. Nearly a half-century later, this combination of bright color and composition with popular signage, informed by the coding of gay culture, was to make a strong impact on Pop artists such as Jasper Johns and Robert Indiana. In this volume, approximately 25 of the artist's works from these years (1913–15) reveal the impact of World War I and elucidate the artist's appropriation of military symbols and Native American motifs. Also included are an illustrated chronology and a wealth of archival material that conveys the historical moment in which these works were made. Their presentation in Los Angeles marks the first focused exhibition of Hartley's Berlin paintings in the US since they were created.
Marsden Hartley was born in Lewiston, Maine, in 1877. After studying at the Cleveland School of Art he won a scholarship to study in New York, where he became one of the first American artists to adopt the discoveries of Picasso, Kandinsky and Klee. His first solo exhibition was held at Alfred Stieglitz's legendary 291 gallery. In 1912 he moved to Paris and was welcomed into the circle of Gertrude Stein. After extensive travels, in the 1930s Hartley returned to Maine, where he died in 1943.


BOOK FORMAT
Paperback, 7.5 x 11 in. / 208 pgs / 114 color / 52 bw.
PUBLISHING STATUS
Pub Date 10/31/2014
Out of stock indefinitely
DISTRIBUTION
D.A.P. Exclusive
Catalog: SPRING 2015 p. 76
PRODUCT DETAILS
ISBN 9781938922664 TRADE
List Price: $48.00 CDN $65.00
AVAILABILITY
Not available
STATUS: Out of stock indefinitely.