Magdalena Frimkess
Museum Exhibition Catalogues, Monographs, Artist's Projects, Curatorial Writings and Essays
MONOGRAPHS & CATALOGS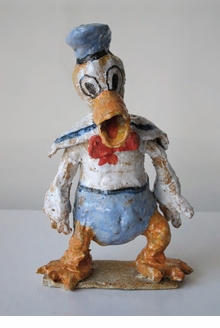 Magdalena Suarez Frimkess
SOUTH WILLARD PRESS
A long-overdue monograph on the playful, pop-inspired ceramics of West Coast legend Magdalena Frimkess
Pbk, 6.25 x 8.25 in. / 80 pgs / 80 color. | 9/17/2019 | Out of stock
$25.00
Published by South Willard Press.
Introduction by Ricky Swallow.
This is the first book on the Venice, California-based ceramicist Magdalena Suarez Frimkess (born 1926). Now in her 90s, the Venezuela-born artist is just now getting the recognition she deserves, with her work finding its way into the collections of LACMA and the Hammer Museum. Her unique approach to ceramics—incorporating cartoon characters such as Felix the Cat, Popeye, Olive Oyl, Goofy and Betty Boop as well as more traditional motifs such as landscapes, birds and flowers—has charmed a younger generation of artists such as Jonas Wood, Shio Kusaka, Mark Grotjahn, Lesley Vance and Ricky Swallow, who contributes an essay here. Magdalena Suarez Frimkessoffers a broad range of the colorful autobiographical pieces she has produced over her career. This book also includes a poster of one of her characteristic cartoon works.
PUBLISHER


South Willard Press

BOOK FORMAT
Paperback, 6.25 x 8.25 in. / 80 pgs / 80 color.

PUBLISHING STATUS
Pub Date 9/17/2019
Active

DISTRIBUTION
D.A.P. Exclusive
Catalog: SPRING 2020 p. 120

PRODUCT DETAILS
ISBN 9781942884514 TRADE
List Price: $25.00 CDN $34.95 GBP £22.00

AVAILABILITY
Out of stock

STATUS: Out of stock

Temporarily out of stock pending additional inventory.