Emilie Brzezinksi
Museum Exhibition Catalogues, Monographs, Artist's Projects, Curatorial Writings and Essays
MONOGRAPHS & CATALOGS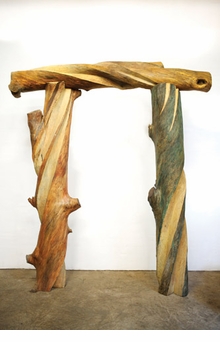 Emilie Brzezinski: The Lure of the Forest
D.A.P./DISTRIBUTED ART PUBLISHERS
Hbk, 10 x 12 in. / 200 pgs / 180 color / 20 bw. | 5/31/2014 | Not available
$49.95
Sculpture 1979-2013
Published by D.A.P./Distributed Art Publishers.
Edited by Todd Bradway. Introduction by Mika Brzezinski. Text by John Beardsley, Aneta Georgievska-Shine. Interviews by Barbara Rose, Aneta Georgievska-Shine.
Emilie Brzezinski began her art career in the 1970s, initially working in a variety of media such as plastic, latex and wood fiber. Equally inspired by Minimalism and natural forms, her early work consisted of transparent resin casts of trees and site-specific arrangements of expressionistic, figurative molds. Since the early 1990s, she has focused entirely on monumental wood sculpture, using a chainsaw and axe to carve forms that breathe new life into found wood--arches, bowls, chairs, columns and discs. "Nature has a grand design," she writes, "but its manifestations unfold in imperfection and specificity. Respect to this persistent individuality in natural form is the underpinning of my work … as I carve the trunk, I retain the essential outline and gesture of the tree." Brzezinski's sculptural approach, which conjures the work of artists as varied as David Nash, Magdalena Abakanowicz and Ursula von Rydingsvard, celebrates the knots, hollows, wounds and cracks of wood, and the myriad possibilities suggested by organic forms. The Lure of the Forest, designed by Katy Homans, explores the entirety of the artist's career, documenting over 80 works. Highlights include her magnum opus Forest (1997–2005), a monumental work composed of 46 tree trunks, and Family Trees (2010–2013), in which she combines sculpture and photography to create a vivid portrait of her family members. In addition to contributions by art historians John Beardsley, Barbara Rose and Aneta Georgievska-Shine, the book includes an introduction by Mika Brzezinski, co-host of MSNBC's "Morning Joe" and the artist's daughter.

Born in 1932 in Geneva, Switzerland, Emilie Brzezinski immigrated to the US and grew up in California. She graduated from Wellesley College in Massachusetts with a degree in the history of art. During the last two decades, the artist has had many gallery and museum installations in the US and overseas. Her work is in the permanent collection of the Corcoran Museum, Washington, DC and has been shown at the Virginia Museum of Art, Katzen Art Center, Washington, DC, and the Delaware Center for Contemporary Art. It can also be seen at sculpture parks across North America, such as the Grounds for Sculpture, New Jersey, Stone Quarry Hill Art Park, New York and the Socrates Art Park, New York.


BOOK FORMAT
Hardcover, 10 x 12 in. / 200 pgs / 180 color / 20 bw.
PUBLISHING STATUS
Pub Date 5/31/2014
Out of stock indefinitely
DISTRIBUTION
D.A.P. Exclusive
Catalog: SPRING 2014 p. 30
PRODUCT DETAILS
ISBN 9781938922312 TRADE
List Price: $49.95 CDN $67.50 GBP £44.99
AVAILABILITY
Not available
STATUS: Out of stock indefinitely.