BOOK FORMAT
Hardcover, 8.5 x 11 in. / 264 pgs / 194 color.
PUBLISHING STATUS
Pub Date 4/25/2017
Out of stock indefinitely
DISTRIBUTION
D.A.P. Exclusive
Catalog: FALL 2017 p. 133
PRODUCT DETAILS
ISBN 9789491714887 TRADE
List Price: $45.00 CDN $60.00
AVAILABILITY
Not available
TERRITORY
NA LA ME
THE FALL 2023 ARTBOOK | D.A.P. CATALOG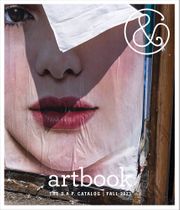 Preview our Fall 2023 catalog, featuring more than 500 new books on art, photography, design, architecture, film, music and visual culture.
Japanese prints from 1920s & 30s when the Jazz Age influenced traditional imagery - rather than geisha make-up the girls sport chin length bobs.

ABOUT THE BOOK: This book is drop dead gorgeous. It begins and ends with pages of full bleeds. The paper is lightweight, toothy and holds a lot of ink. The cover is wrapped with blue & pink toned heavy vellum. Images of flappers, night cubs & cityscapes in addition to the more traditional tea ceremonies, bathing beauties and rural life.
&nbsp
&nbsp
Japan Modern

Japanese Prints from the Elise Wessels Collection

By Marije Jansen.


Japan Modern presents an overview of Japanese printing in the first half of the 20th century. Japan was flourishing in the years following the turn of the century: modern city culture offered plenty of opportunities, the landscape changed, the rights of women began to improve and optimism abounded. At the same time, these vast cultural shifts produced feelings of nostalgia. Prints made in this period portray the turbulent times unlike anything else. Using an ancient wood-carving technique, artists show us modern life: streets scenes with high-rise buildings, cars, railroads, factories and Japanese women with modern hairdos dancing and drinking cocktails. However, more traditional subjects, such as idealized portraits of women and romantic landscapes are portrayed as well. Unique in the Netherlands, the Elise Wessels collection of modern Japanese prints is counted among the best in its field (outside of Japan). This superbly designed volume displays its assets to superb effect.




Featured image is reproduced from 'Japan Modern'

STATUS: Out of stock indefinitely.

SILVANA EDITORIALE

ISBN: 9788836646869
USD $95.00

| CAN $137

Pub Date: 10/31/2023
Forthcoming




THE MUSEUM OF MODERN ART, NEW YORK

ISBN: 9781633451551
USD $55.00

| CAN $79.75

Pub Date: 10/24/2023
Active | In stock




MARSILIO ARTE

ISBN: 9791254630853
USD $40.00

| CAN $56

UK &pound 34

Pub Date: 5/23/2023
Active | In stock




STEIDL/MESERVE-KUNHARDT FOUNDATION

ISBN: 9783969990148
USD $85.00

| CAN $117

Pub Date: 9/27/2022
Active | In stock




MFA PUBLICATIONS, MUSEUM OF FINE ARTS, BOSTON

ISBN: 9780878468836
USD $45.00

| CAN $58

UK &pound 35

Pub Date: 11/30/2021
Active | In stock




ATELIER ÉDITIONS

ISBN: 9781733622042
USD $50.00

| CAN $70

UK &pound 44

Pub Date: 5/25/2021
Active | In stock




DELMONICO BOOKS/ACADEMY MUSEUM OF MOTION PICTURES

ISBN: 9781942884811
USD $55.00

| CAN $74

UK &pound 44

Pub Date: 9/7/2021
Active | Out of stock




JOSLYN ART MUSEUM

ISBN: 9781646570102
USD $39.95

| CAN $55.95

UK &pound 35

Pub Date: 11/10/2020
Active | In stock




HATJE CANTZ

ISBN: 9783775748025
USD $68.00

| CAN $95

Pub Date: 2/16/2021
Active | In stock




HATJE CANTZ

ISBN: 9783775748056
USD $50.00

| CAN $70

Pub Date: 2/9/2021
Active | In stock




DELMONICO BOOKS/STPI

ISBN: 9781942884866
USD $95.00

| CAN $133

UK &pound 84

Pub Date: 6/1/2021
Active | In stock




STEIDL

ISBN: 9783958298729
USD $250.00

| CAN $350

Pub Date: 6/1/2021
Active | In stock