BOOK FORMAT
Hardcover, 9.5 x 11.5 in. / 432 pgs / 550 color.
PUBLISHING STATUS
Pub Date 12/5/2023
Forthcoming
DISTRIBUTION
D.A.P. Exclusive
Catalog: FALL 2023 p. 38
PRODUCT DETAILS
ISBN 9788836646869 TRADE
List Price: $95.00 CDN $137.00
AVAILABILITY
Awaiting stock
TERRITORY
NA LA ASIA AU/NZ AFR ME
EXHIBITION SCHEDULE
New York, NY
The Morgan Library, 10/06/23Ė01/14/24
THE FALL 2023 ARTBOOK | D.A.P. CATALOG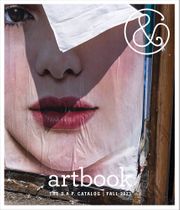 Preview our Fall 2023 catalog, featuring more than 500 new books on art, photography, design, architecture, film, music and visual culture.
&nbsp
&nbsp
Seeds of Knowledge

Early Modern Illustrated Herbals

Edited by Michael Jakob.


A gorgeous compendium of printed herbals describing medicinal plants and their uses

With sumptuous reproductions, Seeds of Knowledge highlights the extraordinary collection of 15th- to 17th-century European printed herbals of the contemporary Liechtenstein collector Peter Goop. Herbals were highly illustrated books that included both the folkloric and medicinal uses of plants, and were critical texts for doctors and lay caregivers. The text and illustrations were repeatedly refined as the medicinal benefits of a plantís use were more clearly understood and the style of illustration tended toward higher degrees of naturalism. These books were working manuals and frequently annotated by readers with notes of herbal recipes/medicines or other uses not found in the printed text. Goopís collection is one of the most extensive in private hands.
Using the Morganís 10th-century manuscript of Dioscuridesí De materia medica as a centerpiece, Seeds of Knowledge explores developments in the understanding of the healthful and healing properties of plants, as Europe moved away from medicinal folklore toward an increased understanding of the natural world.




STATUS: Forthcoming | 12/5/2023

This title is not yet published in the U.S. To pre-order or receive notice when the book is available, please email orders @ artbook.com

SILVANA EDITORIALE

ISBN: 9788836646869
USD $95.00

| CAN $137

Pub Date: 12/5/2023
Forthcoming




THE MUSEUM OF MODERN ART, NEW YORK

ISBN: 9781633451551
USD $55.00

| CAN $79.75

Pub Date: 10/24/2023
Forthcoming




MARSILIO ARTE

ISBN: 9791254630853
USD $40.00

| CAN $56

UK &pound 34

Pub Date: 5/23/2023
Active | In stock




STEIDL/MESERVE-KUNHARDT FOUNDATION

ISBN: 9783969990148
USD $85.00

| CAN $117

Pub Date: 9/27/2022
Active | In stock




MFA PUBLICATIONS, MUSEUM OF FINE ARTS, BOSTON

ISBN: 9780878468836
USD $45.00

| CAN $58

UK &pound 35

Pub Date: 11/30/2021
Active | In stock




ATELIER …DITIONS

ISBN: 9781733622042
USD $50.00

| CAN $70

UK &pound 44

Pub Date: 5/25/2021
Active | In stock




DELMONICO BOOKS/ACADEMY MUSEUM OF MOTION PICTURES

ISBN: 9781942884811
USD $55.00

| CAN $74

UK &pound 44

Pub Date: 9/7/2021
Active | Out of stock




JOSLYN ART MUSEUM

ISBN: 9781646570102
USD $39.95

| CAN $55.95

UK &pound 35

Pub Date: 11/10/2020
Active | In stock




HATJE CANTZ

ISBN: 9783775748025
USD $68.00

| CAN $95

Pub Date: 2/16/2021
Active | In stock




HATJE CANTZ

ISBN: 9783775748056
USD $50.00

| CAN $70

Pub Date: 2/9/2021
Active | In stock




DELMONICO BOOKS/STPI

ISBN: 9781942884866
USD $95.00

| CAN $133

UK &pound 84

Pub Date: 6/1/2021
Active | In stock




STEIDL

ISBN: 9783958298729
USD $250.00

| CAN $350

Pub Date: 6/1/2021
Active | In stock