BOOK FORMAT
Paperback, 6 x 8.75 in. / 328 pgs / 110 bw.
PUBLISHING STATUS
Pub Date 8/25/2018
Out of stock indefinitely
DISTRIBUTION
D.A.P. Exclusive
Catalog: Publisher Backlist
PRODUCT DETAILS
ISBN 9789491677922 TRADE
List Price: $30.00 CDN $45.00
AVAILABILITY
Not available
TERRITORY
NA LA ASIA AFR
THE FALL 2023 ARTBOOK | D.A.P. CATALOG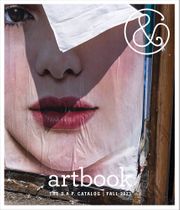 Preview our Fall 2023 catalog, featuring more than 500 new books on art, photography, design, architecture, film, music and visual culture.
&nbsp
&nbsp
Extra-curricular

On and around the topic of self-organized learning, curriculum, experiments, and alternatives in graphic design education

Edited with introduction by Jacob Lindgren. Text by Adam Cruickshank, Chris Lee, Decolonising Design, Diego Bustamante, Katharina Hetzeneder, Ariadna Serrahima, Elisabeth Klement, Laura Pappa, Esther McManus, Evening Class, Francisco Laranjo, Jack Henrie Fisher, James Langdon, Joe Potts, Kristina Ketola Bore, et al.


Extra-curricular is a reader of texts on and around the topic of self-organized learning, curriculum, experiments, and alternatives in graphic design education. Occurring both within and separate from existing institutions, these other forms of learning and organization question how such learning takes place, for whom, and the ideologies inherent in existing models, among many other things. An (admittedly) incomplete inventory inspired by the widespread activity and educational turn (or shift) in the field, this book aims to serve as a point of departure for further discussion and experimentation.




STATUS: Out of stock indefinitely.

REEL ART PRESS

ISBN: 9781909526938
USD $95.00

| CAN $137

Pub Date: 3/5/2024
Forthcoming




SET MARGINS' PUBLICATIONS

ISBN: 9789083270678
USD $25.00

| CAN $36

Pub Date: 9/5/2023
Active | In stock




SET MARGINS' PUBLICATIONS

ISBN: 9789083270692
USD $30.00

| CAN $43.5

Pub Date: 9/5/2023
Active | In stock




SET MARGINS' PUBLICATIONS

ISBN: 9789083270654
USD $35.00

| CAN $50.5

Pub Date: 9/5/2023
Active | In stock




SET MARGINS' PUBLICATIONS

ISBN: 9789083270647
USD $20.00

| CAN $29

Pub Date: 9/5/2023
Active | In stock




LETTERFORM ARCHIVE BOOKS

ISBN: 9781736863343
USD $60.00

| CAN $87

UK &pound 54

Pub Date: 2/27/2024
Forthcoming




LETTERFORM ARCHIVE BOOKS

ISBN: 9781736863329
USD $60.00

| CAN $87

UK &pound 54

Pub Date: 3/26/2024
Forthcoming




LARS MüLLER PUBLISHERS

ISBN: 9783037787304
USD $25.00

| CAN $36

Pub Date: 9/5/2023
Active | In stock




LARS MüLLER PUBLISHERS

ISBN: 9783037787397
USD $60.00

| CAN $87

Pub Date: 12/5/2023
Forthcoming




SPECTOR BOOKS

ISBN: 9783959056380
USD $45.00

| CAN $63

Pub Date: 5/30/2023
Active | Out of stock




LARS MüLLER PUBLISHERS

ISBN: 9783037787199
USD $40.00

| CAN $56

Pub Date: 6/6/2023
Active | In stock




SILVANA EDITORIALE

ISBN: 9788836651061
USD $30.00

| CAN $42

Pub Date: 11/15/2022
Active | In stock