BOOK FORMAT
Paperback, 4 x 8 in. / 192 pgs / 64 color.
PUBLISHING STATUS
Pub Date 3/9/2018
Active
DISTRIBUTION
D.A.P. Exclusive
Catalog: Publisher Backlist
PRODUCT DETAILS
ISBN 9789491677854 TRADE
List Price: $26.00 CDN $39.95
AVAILABILITY
Out of stock
TERRITORY
NA LA ASIA AFR
THE FALL 2023 ARTBOOK | D.A.P. CATALOG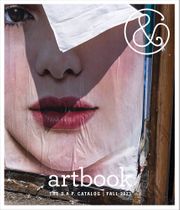 Preview our Fall 2023 catalog, featuring more than 500 new books on art, photography, design, architecture, film, music and visual culture.
&nbsp
&nbsp
Sense & Sensibility

What a girl wants what a girl needs

Edited by Pernilla Ellens. Text by Mandy Roos, Gabriel A. Maher, Roberto Perez de Gayo, Carly Rose Bedford, Olle Lundin, Janina Frye, Camille Auer, Barbara Bolt, Daantje Bons, Charlotte van Buylaere, Ece Canli, Luiza Prado de O. Martins, Victoria Ledig, Alicja Melzacka, Nina Power, Barbara Smith, Aynouk Tan.


Exploring the need for a more inclusive and varied take on contemporary feminism

It's because feminism has become a fashionable commodity now, that we're in desperate need of a more inclusive and varied reflection on contemporary girlhood, gender equality struggles, and the relationship between gender, politics and philosophy. This book documents the production and thought processes of 6 engaging artists and designers regarding the theme, and features a collection of essays by artists and academics, writers and rioters, curators and journalists




STATUS: Out of stock

Temporarily out of stock pending additional inventory.

MOUSSE PUBLISHING

ISBN: 9788867495870
USD $30.00

| CAN $44

Pub Date: 12/5/2023
Forthcoming




HATJE CANTZ

ISBN: 9783775756242
USD $55.00

| CAN $79

Pub Date: 1/9/2024
Forthcoming




HATJE CANTZ

ISBN: 9783775756181
USD $28.00

| CAN $40

Pub Date: 1/9/2024
Forthcoming




KAPH BOOKS

ISBN: 9786148035579
USD $40.00

| CAN $58

Pub Date: 6/27/2023
Active | In stock




VALIZ

ISBN: 9789493246270
USD $30.00

| CAN $43.5

Pub Date: 10/3/2023
Active | In stock




VALIZ

ISBN: 9789493246287
USD $29.95

| CAN $42.95

Pub Date: 10/24/2023
Active | In stock




VALIZ

ISBN: 9789493246225
USD $12.50

| CAN $18

Pub Date: 10/3/2023
Active | In stock




SPECTOR BOOKS

ISBN: 9783959056960
USD $35.00

| CAN $50.5

Pub Date: 10/3/2023
Active | In stock




SPECTOR BOOKS

ISBN: 9783959056946
USD $55.00

| CAN $79

Pub Date: 10/3/2023
Active | In stock




SET MARGINS' PUBLICATIONS

ISBN: 9789083318844
USD $33.00

| CAN $47

Pub Date: 12/5/2023
Forthcoming




LARS MüLLER PUBLISHERS

ISBN: 9783037787465
USD $55.00

| CAN $79

Pub Date: 9/5/2023
Active | In stock




BOKFöRLAGET STOLPE

ISBN: 9789189425934
USD $20.00

| CAN $29

Pub Date: 1/9/2024
Forthcoming