BOOK FORMAT
Paperback, 6.75 x 9.5 in. / 244 pgs / 200 color.
PUBLISHING STATUS
Pub Date 10/24/2017
Active
DISTRIBUTION
D.A.P. Exclusive
Catalog: FALL 2017 p. 164
PRODUCT DETAILS
ISBN 9789462083523 TRADE
List Price: $35.00 CDN $47.50
AVAILABILITY
In stock
TERRITORY
NA LA ME
THE FALL 2023 ARTBOOK | D.A.P. CATALOG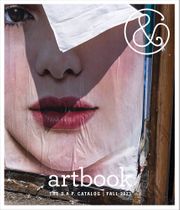 Preview our Fall 2023 catalog, featuring more than 500 new books on art, photography, design, architecture, film, music and visual culture.
A bike-centric model of urban planning, Steven Fleming advocates for Biking what Jane Jacobs championed for Walking.

The first bike-centric model of urban planning and building design, Velotopia is a book for designers, planners, students, advocates and the general reader—all those shaping cities and the built environment who imagine a future for the cycling city.
ABOUT THE AUTHOR Steven Fleming is the author of the popular Cycle Space: Architecture and Urban Design in the Age of the Bicycle. He is an ongoing visiting scientist with a Harvard University research team exploring the link between health and cycling and is a brand ambassador for bicycle manufacturer Shimano.
&nbsp
&nbsp
Velotopia

The Production of Cyclespace in Our Minds and Our Cities

By Steven Fleming. Photographs by Mikael Colville-Andersen.


Across the world, cities are encouraging cycling to make their centers livable again.

Could cycling actually become a key organizing principle for future urban growth and the design of new buildings? What would cities designed for cycling look like and feel like? What is needed to make the perfect cycling city?

In Velotopia: The Production of Cyclespace in Our Minds and Our Cities, architectural theorist and historian Steven Fleming, a leading international figure in bicycle urbanism and author of the bestselling Cycle Space (2013), argues that the best-connected cities in the future will be those that put cycling before walking and public transport. According to Fleming, cities organized around cycling will be greener and healthier, but also fairer and more accessible than today's cities—more productive, comfortable, social and fun. In this volume, Fleming dares readers to think big, to radically reimagine cities and city life around movement on two wheels.

The first bike-centric model of urban planning and building design, Velotopia is a book for designers, planners, students, advocates and the general reader—all those shaping cities and the built environment who imagine a future for the cycling city.




Free Shipping

UPS GROUND IN THE CONTINENTAL U.S.
FOR CONSUMER ONLINE ORDERS

WALTHER KöNIG, KöLN

ISBN: 9783753303901
USD $39.95

| CAN $56.95

Pub Date: 11/14/2023
Forthcoming




SPECTOR BOOKS

ISBN: 9783959057462
USD $15.00

| CAN $21

Pub Date: 3/5/2024
Forthcoming




SPECTOR BOOKS/ARCH+

ISBN: 9783959057028
USD $35.00

| CAN $50

Pub Date: 11/21/2023
Forthcoming




SET MARGINS' PUBLICATIONS

ISBN: 9789083318868
USD $23.00

| CAN $33

Pub Date: 11/7/2023
Forthcoming




MOUSSE PUBLISHING

ISBN: 9788867495832
USD $30.00

| CAN $44

Pub Date: 12/5/2023
Forthcoming




MARSILIO ARTE

ISBN: 9791254631447
USD $29.95

| CAN $43.95

UK &pound 24.99

Pub Date: 10/31/2023
Forthcoming




ARQUINE

ISBN: 9786078880157
USD $35.00

| CAN $50.5

UK &pound 30

Pub Date: 11/7/2023
Forthcoming




HATJE CANTZ

ISBN: 9783775754231
USD $70.00

| CAN $101.5

Pub Date: 11/7/2023
Forthcoming




LARS MULLER PUBLISHERS

ISBN: 9783037787380
USD $55.00

| CAN $79

Pub Date: 12/12/2023
Forthcoming




LARS MüLLER PUBLISHERS

ISBN: 9783037787366
USD $40.00

| CAN $58

Pub Date: 12/12/2023
Forthcoming




NAI010 PUBLISHERS

ISBN: 9789462087996
USD $40.00

| CAN $58

Pub Date: 10/3/2023
Active | In stock




NAI010 PUBLISHERS

ISBN: 9789462087880
USD $45.00

| CAN $65

Pub Date: 12/5/2023
Forthcoming