BOOK FORMAT
Paperback, 6.5 x 8.5 in. / 450 pgs / 88 color / 130 bw.
PUBLISHING STATUS
Pub Date 2/1/2015
Active
DISTRIBUTION
D.A.P. Exclusive
Catalog: Publisher Backlist
PRODUCT DETAILS
ISBN 9783959050333 TRADE
List Price: $35.00 CDN $49.95
AVAILABILITY
In stock
THE FALL 2023 ARTBOOK | D.A.P. CATALOG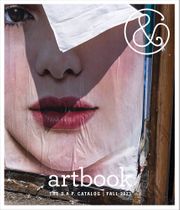 Preview our Fall 2023 catalog, featuring more than 500 new books on art, photography, design, architecture, film, music and visual culture.
"There's a live-wire spontaneity to Mekas's writing, an excitement sparked by his sense of beauty, by his sheer pleasure in cinematic imagination, and it's connected to a soulful sense of inwardness and empathy. --The New Yorker

ABOUT THE ARTIST: Jonas Mekas (b. 1922, Lithuania) is the quintessential New York downtown artist. Often called the Godfather of American avant-garde cinema, he co-founded of the Anthology Film Archives, the premiere repository of avant-garde film. He continues to make film diaries well into his nineties, and grows more and more famous with his age.
ABOUT THE BOOK: Staring in 1958 Mekas wrote a weekly column called Movie Journal for the Village Voice. This book brings together published and unpublished texts from this column and up through to 2010. The book includes interviews with Judith Malina & Julian Beck (The Living Theatre), Pier Paolo Pasolini, Richard Foreman, Susan Sontag, Hermann Nitsch, Peter Kubelka, Nam June Paik, John Lennon & Yoko Ono.
&nbsp
&nbsp
Jonas Mekas: Scrapbook of the Sixties

Writings 1954–2010

Edited by Anne König.


"There's a live-wire spontaneity to Mekas's writing, an excitement sparked by his sense of beauty, by his sheer pleasure in cinematic imagination, and it's connected to a soulful sense of inwardness and empathy." –The New Yorker

Andy Warhol, Susan Sontag, John Lennon & Yoko Ono — Jonas Mekas was well acquainted with a great many New York artists. Born in Lithuania, he came to Brooklyn via Germany in 1949 and began shooting his first experimental films there. Mekas developed a form of film diary in which he recorded his daily observations. He became the barometer of the New York art scene and a pioneer of American avant-garde cinema. Every week, starting in 1958 he published his legendary Movie Journal column in the Village Voice, writing on a range of subjects that were by no means restricted to the world of film. He conducted numerous interviews with artists, some of which will now appear for the first time in his Scrapbook of a Diarist. The book contains published and unpublished texts that reveal Mekas as a thoughtful diarist and an unparalleled chronicler of the day — a phenomenon that has continued now for over fifty years.


Featured image is reproduced from 'Jonas Mekas: Scrapbook of the Sixties.'

Free Shipping

UPS GROUND IN THE CONTINENTAL U.S.
FOR CONSUMER ONLINE ORDERS

KAPH BOOKS

ISBN: 9786148035579
USD $40.00

| CAN $58

Pub Date: 6/27/2023
Active | In stock




VALIZ

ISBN: 9789493246270
USD $30.00

| CAN $43.5

Pub Date: 9/5/2023
Forthcoming




VALIZ

ISBN: 9789493246287
USD $29.95

| CAN $42.95

Pub Date: 9/5/2023
Forthcoming




VALIZ

ISBN: 9789493246225
USD $12.50

| CAN $18

Pub Date: 9/5/2023
Forthcoming




SPECTOR BOOKS

ISBN: 9783959056960
USD $35.00

| CAN $50.5

Pub Date: 8/8/2023
Forthcoming




SPECTOR BOOKS

ISBN: 9783959056946
USD $55.00

| CAN $79

Pub Date: 8/8/2023
Forthcoming




SET MARGINS' PUBLICATIONS

ISBN: 9789083318844
USD $33.00

| CAN $47

Pub Date: 8/15/2023
Forthcoming




LARS MüLLER PUBLISHERS

ISBN: 9783037787465
USD $55.00

| CAN $79

Pub Date: 12/12/2023
Forthcoming




BOKFöRLAGET STOLPE

ISBN: 9789189425934
USD $20.00

| CAN $29

Pub Date: 8/8/2023
Forthcoming




HATJE CANTZ

ISBN: 9783775754569
USD $34.95

| CAN $48.95

Pub Date: 1/31/2023
Active | Out of stock




WALTHER KöNIG, KöLN

ISBN: 9783753302393
USD $18.00

| CAN $25

Pub Date: 1/10/2023
Active | In stock




KARMA BOOKS, NEW YORK

ISBN: 9781949172775
USD $25.00

| CAN $34

UK &pound 21.995

Pub Date: 10/25/2022
Active | In stock