BOOK FORMAT
Hardcover, 9 x 12 in. / 1,028 pgs / 2,852 color.
PUBLISHING STATUS
Pub Date 12/10/2019
Active
DISTRIBUTION
D.A.P. Exclusive
Catalog: FALL 2017 p. 21
PRODUCT DETAILS
ISBN 9783931936990 TRADE
List Price: $250.00 CDN $350.00
AVAILABILITY
In stock
THE FALL 2023 ARTBOOK | D.A.P. CATALOG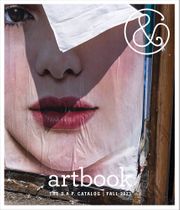 Preview our Fall 2023 catalog, featuring more than 500 new books on art, photography, design, architecture, film, music and visual culture.
The ULTIMATE book on the history of furniture design
ABOUT THE VITRA FURNITURE COLLECTION:The museum's collection of furniture is one of the largest in the word -- over 7,000 objects. The core of the collection is the bequest of U.S. designers Charles & Ray Eames and Alexander Girard as well as numerous other designers including George Nelson,Alvar Aalto, Charlotte Perriand, Verner Panton, Dieter Rams, Jean Prouvé, Richard Hutten, Finn Juhl, Eero Saarinen, Philippe Starck, Marcel Wanders, Konstantin Grcic Achille Castiglioni.
ABOUT THE BOOK: 1008 pages, 2595 images 215 years, 327 designers 121 manufacturers, 1691 objects. This book is MASSIVE – it is an encyclopedic reference, an indispensable resource and a beautifully designed object.It covers furniture from 1800s to now.
PRESS & PROMO: Special $195 list price now through December 31, 2019 thereafter the price goes up to $250.
&nbsp
&nbsp
Atlas of Furniture Design

Edited with text by Mateo Kries, Jochen Eisenbrand. Text by Alberto Bassi, Fulvio Ferrari, Otakar Má?el, Jane Pavitt, Ingeborg de Roode, Catharine Rossi, Arthur Rüegg, Penny Sparke, Deyan Sudjic, Wolf Tegethoff, Carsten Thau and Kjeld Vindum, Gerald W. R. Ward, et al.


At 1,028 pages, featuring 1,740 objects and spanning 237 years, this authoritative volume is without doubt the ultimate book on furniture design

The Atlas of Furniture Design is the most comprehensive overview of the history of furniture design ever published. The book documents 1,740 objects by 546 designers and 565 manufacturers, and features more than 2,500 images, from detailed object photographs to historical documentation such as interiors, patents, brochures and reference works in art and architecture.

The basis for the Atlas of Furniture Design is the furniture collection held by the Vitra Design Museum, one of the largest of its kind in the world, with more than 7,000 works. The collection is made up of pieces from key periods in design history and by the most significant designers and manufacturers of the past 200 years, including early industrial furniture in bentwood or metal, Art Nouveau and Secessionist objects, works by such protagonists of classical modernism as Le Corbusier, Gerrit Rietveld, Charlotte Perriand and Marcel Breuer, postwar figures such as Finn Juhl, Eero Saarinen and Achille Castiglioni, and postmodern and contemporary designers like Philippe Starck, Marcel Wanders and Konstantin Grcic, as well as the estates of design legends such as Charles and Ray Eames, Verner Panton, Alexander Girard, George Nelson and others.

Several years in the making, the Atlas of Furniture Design has employed a team of 71 authors and features in-depth essays providing sociocultural and design-historical context to the history of furniture design, as well as 551 detailed texts accompanying key objects. The book is enriched by a detailed annex containing designer biographies, bibliographies, a glossary of manufacturers and an index, along with information graphics offering a complementary visual approach to the history of furniture design. The Atlas of Furniture Design is both an encyclopedic reference tool and an indispensable resource for collectors, scholars and experts, as well as a beautifully designed object that speaks to design enthusiasts around the globe.




PRAISE AND REVIEWS

Aesthetica

Hunker Dukes

Never before have stools and sideboards teemed with so much life.

Buisness of Furniture

[A] comprehensive overview on the history of furniture design...

New York Magazine: Strategist

...this 1,000-page compendium documents 1,740 objects made by 546 furniture designers over the past 230 years — from chairs by Marcel Breuer to Ikea's Billy bookshelf — through time lines, biographies, infographics, and more.

Forbes

Wolff Natasha

[A]n A-Z compendium of the most iconic 1,700 plus objects designed by 550 designers...

Gray

Rachel Gallager

[An] uber comprehensive tome dedicated to the history of modern furnishings...

Metropolis

Samuel Medina

The contribution, which outlines the development of the design discipline between 1973 and 2017, provides essential context to the tome's comprehensive survey of 1,740 objects of modern design.

Free Shipping

UPS GROUND IN THE CONTINENTAL U.S.
FOR CONSUMER ONLINE ORDERS

FROM THE BOOK

RIETVELD'S ALUMINIUM CHAIR

During the German occupation of the Netherlands the architect and furniture designer Gerrit Thomas Rietveld was not allowed to practice his profession because he refused to become a member of the Nederlandsche Kultuurkamer (the Netherlands Chamber of Culture), which was established in 1941 and supported National Socialist ideology. In anticipation of better times to come Rietveld revisited an old idea, 'a chair that emerges from the machine in one fell swoop'.

After having constructed the Birza Chair from a single sheet of fibreboard in 1927, Rietveld had continued to search for better combinations of materials and forms. He produced innumerable sketches for chairs made from materials as different as metal and cane, and made small models from acrylic glass and cardboard. His design drawings indicate that he had intended to produce a chair from fibreboard. However, possibly influenced by his youngest son Wim, who was a metalworker and precision mechanic, he and Wim produced a full-size model in Aluminium in 1942. The tub-like seat, the separate back legs and the braces between the seat and the sides were beaten, bent, and riveted together by hand. The folded-over edges and the round holes serve to reinforce the structural strength of the material. The holes are reminiscent of the Landi Chair, which was designed by Hans Coray in 1938. Rietveld was doubtlessly familiar with this design, as an example was owned by Truus Schröder (who commissioned the Rietveld Schröder House and was his partner). Moreover, 'shortly before or early on in the war' Max Bill had used these chairs to furnish a stand at the Jaarbeurs exhibition centre in Utrecht.

After the war, Rietveld's Aluminium Chair was depicted in the avant-garde magazine 'Open Oog,' and displayed at the Salon des artistes décorateurs in Paris in 1949 and elsewhere. Nevertheless, Rietveld was unable to find a manufacturer for the design; the form was probably too extreme. A critic wrote that while Rietveld seemed to be obsessed by the need to quickly manufacture large quantities of furniture for the hundreds of thousands of people who had lost everything in the war, he himself had misgivings: 'The aluminium model [Rietveld] has made still bears all the marks of an experiment; only an eccentric will place this lounge chair in his sitting room.' But there was appreciation, too. The Stedelijk Museum in Amsterdam acquired the prototype in 1950 and a decade later the Technische Hogeschool Delft, forerunner of Delft University of Technology, was keen to add the chair to its collection. Rietveld and his sons Wim and Egbert therefore produced three more examples at Egbert's technical instrument factory in Epe in 1960. The design was never put into serial production, probably because the aluminium began to tear at the corners and further development of the design would therefore have been necessary. The Aluminium Chair is in effect a failed variant of an old concept, but the design speaks to the imagination more than ever, probably because the form dovetails well with the sculptural furniture realized using industrial materials in recent decades, including designs by Marc Newson and Ron Arad. - Ida van Zijl

CORY REYNOLDS | DATE 12/2/2019

Thursday, December 5 from 12–1PM, Vitra Design Museum and Design Miami/ 2019 present the US launch of Atlas of Furniture Design, the new encyclopedic publication on 200 years of furniture design. Editor Mateo Kries will appear on a panel with Humberto Campana, Eames Demetrios and Libby Sellers, followed by a reception.
continue to blog

CORY REYNOLDS | DATE 1/30/2020

Featuring 2,852 gorgeous color images of 1,740 objects produced over the last 237 years by 546 designers and 565 manufacturers, Vitra's 1,028-page Atlas of Furniture Design is truly the greatest and most comprehensive book on furniture design in the history of modern publishing. Cataloging everything from aircraft seats to wheelchairs and spanning Alvar and Aino Aalto to Oskar Zieta, the book contains 551 scholarly texts by 71 authors, and also happens to be an exemplary object in and of itself—approximately 3-inches wide at the spine and featuring numerous deluxe papers, gatefolds, new and vintage photography, timelines, details, designer and author biographies, glossaries of manufacturers, materials and production techniques, and an extensive bibliography, index and image credit section. A feat of design publishing. continue to blog

ANDREA CAPUTO

ISBN: 9791221003420
USD $135.00

| CAN $195

Pub Date: 8/1/2023
Forthcoming




SILVANA EDITORIALE

ISBN: 9788836654529
USD $75.00

| CAN $108.5

Pub Date: 9/19/2023
Forthcoming




SILVANA EDITORIALE

ISBN: 9788836651085
USD $40.00

| CAN $58

Pub Date: 9/19/2023
Forthcoming




SKIRA PARIS

ISBN: 9782370741967
USD $45.00

| CAN $63

Pub Date: 7/25/2023
Forthcoming




VITRA DESIGN MUSEUM

ISBN: 9783945852545
USD $52.00

| CAN $72

Pub Date: 1/3/2023
Active | In stock




SILVANA EDITORIALE

ISBN: 9788836652082
USD $40.00

| CAN $55

Pub Date: 11/15/2022
Active | In stock




SKIRA PARIS

ISBN: 9782370741899
USD $95.00

| CAN $134

Pub Date: 7/11/2023
Forthcoming




STRANDBERG PUBLISHING

ISBN: 9788794102551
USD $70.00

| CAN $98

Pub Date: 3/14/2023
Active | In stock




KERBER

ISBN: 9783735608765
USD $85.00

| CAN $119

Pub Date: 5/23/2023
Active | In stock




MOUSSE PUBLISHING

ISBN: 9788867495429
USD $80.00

| CAN $112

Pub Date: 4/4/2023
Active | Out of stock




LARS MüLLER PUBLISHERS

ISBN: 9783037787151
USD $50.00

| CAN $70

Pub Date: 3/21/2023
Active | In stock




LARS MüLLER PUBLISHERS

ISBN: 9783037787106
USD $70.00

| CAN $98

Pub Date: 1/31/2023
Active | In stock