BOOK FORMAT
Paperback, 8.25 x 10.25 in. / 144 pgs / illustrated throughout.
PUBLISHING STATUS
Pub Date 4/30/2014
Active
DISTRIBUTION
D.A.P. Exclusive
Catalog: SPRING 2014 p. 157
PRODUCT DETAILS
ISBN 9783869844732 TRADE
List Price: $28.00 CDN $38.50
AVAILABILITY
Out of stock
TERRITORY
NA LA ASIA AU/NZ AFR ME
EXHIBITION SCHEDULE
Vienna, Austria
Austrian Museum of Applied Arts & Contemporary Art, 11/24/13-05/11/14
THE FALL 2023 ARTBOOK | D.A.P. CATALOG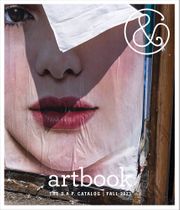 Preview our Fall 2023 catalog, featuring more than 500 new books on art, photography, design, architecture, film, music and visual culture.
&nbsp
&nbsp
Franz von Zülow

Edited by Christoph Thun-Hohenstein, Kathrin Pokorny-Nagel. Text by Christoph Thun-Hohenstein, Roland Girtler, Friedrich Heller, Peter Klinger, Gerd Pichler, Kathrin Pokorny-Nagel.


This publication celebrates the art of Austrian painter and designer Franz von Zülow (1883–1963), including works on paper from the MAK collection and the artist's estate. Active in many genres, von Zülow designed textile patterns, carpets, ceramics and interiors while also developing innovative graphic techniques.


STATUS: Out of stock

Temporarily out of stock pending additional inventory.

SET MARGINS' PUBLICATIONS

ISBN: 9789083350103
USD $30.00

| CAN $44

Pub Date: 11/7/2023
Forthcoming




MOUSSE PUBLISHING

ISBN: 9788867495962
USD $40.00

| CAN $58

Pub Date: 12/5/2023
Forthcoming




ANDREA CAPUTO

ISBN: 9791221003420
USD $135.00

| CAN $195

Pub Date: 9/5/2023
Active | In stock




SILVANA EDITORIALE

ISBN: 9788836654529
USD $75.00

| CAN $108.5

Pub Date: 2/20/2024
Forthcoming




SILVANA EDITORIALE

ISBN: 9788836651085
USD $40.00

| CAN $58

Pub Date: 11/7/2023
Forthcoming




SKIRA PARIS

ISBN: 9782370741967
USD $45.00

| CAN $63

Pub Date: 11/21/2023
Forthcoming




VITRA DESIGN MUSEUM

ISBN: 9783945852545
USD $52.00

| CAN $72

Pub Date: 1/3/2023
Active | In stock




SILVANA EDITORIALE

ISBN: 9788836652082
USD $40.00

| CAN $55

Pub Date: 11/15/2022
Active | In stock




LARS MüLLER PUBLISHERS

ISBN: 9783037787106
USD $70.00

| CAN $98

Pub Date: 1/31/2023
Active | In stock




KERBER

ISBN: 9783735608765
USD $85.00

| CAN $119

Pub Date: 5/23/2023
Active | In stock




MOUSSE PUBLISHING

ISBN: 9788867495429
USD $80.00

| CAN $112

Pub Date: 4/4/2023
Active | Out of stock




LARS MüLLER PUBLISHERS

ISBN: 9783037787151
USD $50.00

| CAN $70

Pub Date: 3/21/2023
Active | In stock