BOOK FORMAT
Paperback, 4.75 x 6.5 in. / 696 pgs / 1200 images.
PUBLISHING STATUS
Pub Date 10/15/2014
Out of stock indefinitely
DISTRIBUTION
D.A.P. Exclusive
Catalog: Publisher Backlist
PRODUCT DETAILS
ISBN 9783037784297 TRADE
List Price: $39.00 CDN $52.50
AVAILABILITY
Not available
TERRITORY
NA ONLY
THE FALL 2023 ARTBOOK | D.A.P. CATALOG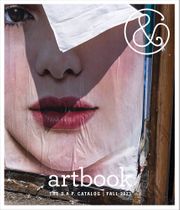 Preview our Fall 2023 catalog, featuring more than 500 new books on art, photography, design, architecture, film, music and visual culture.
&nbsp
&nbsp
Elements of Venice

By Giulia Foscari.


The metamorphic nature of Venice, a city in which most buildings underwent throughout the centuries substantial volumetric and formal transformations informed by political and cultural shifts, is revealed in Elements of Venice through the analysis of single architectural elements. Developed as a parallel research project of Fundamentals—the 14th Venice Architecture Biennale curated by Rem Koolhaas—the book offers insights on Venetian facades, stairs, corridors, floors, ramps, ceilings, doors, hearths, windows, balconies and walls. "Product not [only] of the mind but of societal organization" the elements are isolated from their picture-perfect context and from the postcard view of Venice that is impressed in our retinas, introducing the reader—through a combination of collages, drawings, photographs, paintings, film stills and quotes—to a radically new way of seeing Venice. Like a camera obscura photograph cuts through the often irrelevant embellishments of architecture to reveal the underlying skeleton of a building (i.e. its elements), this guide will allow the reader to better understand the fundamental transformations that have shaped Venice during the past ten centuries. This city, which for many is—architecturally speaking—permanently frozen in time, has in fact often been at the forefront of challenging the architectural conventions, both during the days of the Republic (until 1797), in which gothic and renaissance styles were seen as carriers of political and ideological meanings, and in the past two centuries when, despite the introduction of the dooming motto "Com'era, dov'era" ("As it was, where it was"), Venice underwent an unprecedented urban transformation.




STATUS: Out of stock indefinitely.

SKIRA

ISBN: 9788857250106
USD $60.00

| CAN $87

Pub Date: 12/26/2023
Forthcoming




SKIRA

ISBN: 9788857250090
USD $60.00

| CAN $87

Pub Date: 12/26/2023
Forthcoming




LARS MüLLER PUBLISHERS

ISBN: 9783037787267
USD $30.00

| CAN $43.5

Pub Date: 1/9/2024
Forthcoming




DELMONICO BOOKS

ISBN: 9781636811123
USD $85.00

| CAN $123

UK &pound 75

Pub Date: 9/5/2023
Active | In stock




SILVANA EDITORIALE/QATAR MUSEUMS

ISBN: 9788836653102
USD $55.00

| CAN $77

Pub Date: 5/30/2023
Active | In stock




SILVANA EDITORIALE

ISBN: 9788836650477
USD $60.00

| CAN $84

Pub Date: 11/15/2022
Active | In stock




NAI010 PUBLISHERS

ISBN: 9789462087439
USD $55.00

| CAN $76

Pub Date: 2/28/2023
Active | Out of stock




VITRA DESIGN MUSEUM

ISBN: 9783945852552
USD $49.95

| CAN $69.95

Pub Date: 2/14/2023
Active | In stock




MOUSSE PUBLISHING

ISBN: 9788867495283
USD $10.00

| CAN $14

Pub Date: 4/4/2023
Active | In stock




SPECTOR BOOKS

ISBN: 9783959056205
USD $40.00

| CAN $56

Pub Date: 9/26/2023
Active | In stock




WASMUTH & ZOHLEN

ISBN: 9783803023834
USD $39.95

| CAN $55.95

Pub Date: 12/5/2023
Forthcoming




STRANDBERG PUBLISHING

ISBN: 9788794102551
USD $70.00

| CAN $98

Pub Date: 3/14/2023
Active | In stock